This may not come to a surprise for most of you, but my mom is the queen of making pies! She's a great baker in general, but her pies are seriously out-of-this-world delicious! I'm not even being bias. Her pies are flawless and have inspired me greatly!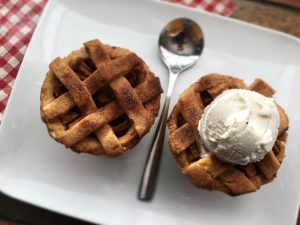 I've made Strawberry Pies, Rhubarb Pies, Pumpkin Pies, Pear Pie Bars and Banana Cream Pie Bars, keeping my mom in mind with each one. It was only a matter of time that I made an Apple Pie, which is my mom's #1 pie. I wanted to switch it up a bit though, so I made mini versions!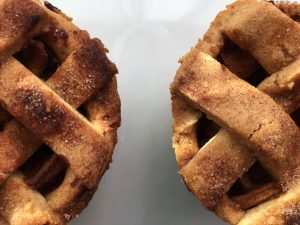 How cute are these lil Apple Pie Cups?! They're so cute, I almost didn't even want to eat them! Obviously I got over that real quick and devoured one; enjoying every last bite down to the itty-bitty crumbs.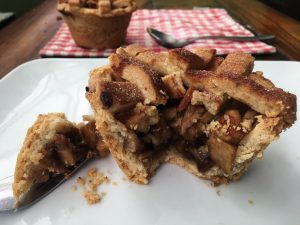 Speaking of devouring this deliciousness, these pie cups are great for portion control since they're in this cute little cup form! I know it's definitely easier for me to cut a bigger than average slice of pie than it is to let myself have two of these babies!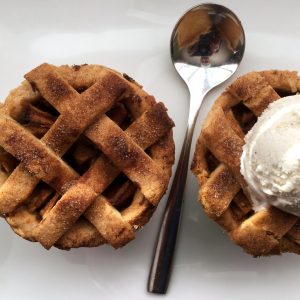 These pie cups require just TEN ingredients, too. They do take some time, effort and love to make, but overall, they're easy as pie! (;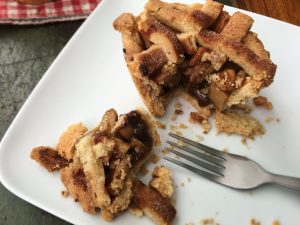 If and when you make this recipe, you'll definitely want to snap a photo or two since they're so beautiful! Just don't forget to tag @bunnysbite and #bunnysbite so I can see!! (: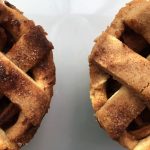 Apple Pie Cups (V/GF)
These apple pie cups are so cute and perfect for portion control!
Prep Time
1
hour
15
minutes
Ingredients
Crust
1 1/2

cups + 2 tbsp

gluten free all-purpose flour

(plus more for rolling dough)

1 1/2

cups + 2 tbsp

almond flour

1

tsp

coconut sugar

1/2

tsp

salt

1

cup

coconut oil

chilled and solid

4

tbsp

ice water
Filling
5

small-medium granny smith or honey crisp apples

, peeled and diced

3/4

cup

coconut sugar

2

tbsp

gluten free all purpose flour

1

tbsp

lemon juice

1

tsp

ground cinnamon

1

tsp

vanilla extract

1/2

tsp

allspice

1/4

tsp

salt

Pinch of ground cloves

*optional
Instructions
In a food processor, combine the both of the flours, coconut sugar and salt. Pulse until mixed. Chop up the chilled coconut oil and add it to the processor. Pulse until it becomes crumbly (the size of peas). Next, add the water, and process until fully combined.

Form dough into a ball and wrap in plastic wrap. Refrigerate for 30 minutes to an hour.


In the meantime, make the pie filling. Add all of the filling ingredient to a large bowl and mix until all of the apples are coated. Set aside.


Lightly grease a large muffin tin and line each one with a thick strip of parchment paper long enough to hang over the edges. This will help you lift out the pies after they're baked. Set aside.

Remove the ball of dough from the refrigerator. Divide dough into 5 even sized balls. Roll out the first ball on a floured surface until it's about a 1/4-inch thick. I usually work the dough for a while with my hands and then finish up with a rolling pin. You may need to add more flour to the surface as you go.


Place the first piece of rolled out dough into of of the muffin tins. It should be more than enough dough. Remove any excess or unneeded dough and set aside (save for top crust). You may need to do some patch work with the crust when you first put it in the muffin tin.


Repeat the last two steps with the rest of the balls of dough. I recommend putting the muffin tin in the freezer in between rolling the balls of dough.

Once all five pie cups have their bottom crust, cover with foil and put it in the freezer while you work on the lattice strips.


Place the extra dough onto a piece of parchment paper and cut into even strips, 1/2-inch to 3/4-inch wide, depending on how thick you want your lattice strips. You can do this with a sharp knife or a pizza cutter. Feel free to use a ruler or a straight edge if some sort to make sure they're even!


Remove muffin tin from freezer from freezer and evenly pour the pie filling into each cup.


Lay out 2 parallel strips of the pie dough with about 1/2-inch to 3/4-inch space between them.


Fold back every one strip. Place another strip of dough perpendicular to the parallel strips. Unfold the folded strip over the perpendicular strip. Repeat this with the second set of dough strips for the pie cup.


Remove with the remaining four pie cups.


Then, trim the edges of each pie up with a sharp knife and then seal the edges by simply pressing your thumb around the edges of each pie cup.

Freeze the pie prepared pie cups for at least half an hour.


Remove pie cups from freezer and top each one with optional cinnamon and sugar. Then bake the pie cups in a preheated oven at 375 degrees F for until crust is slightly golden, about 45 minutes.


Let cool completely before serving. Enjoy! Store leftovers tightly wrapped at room temperature for up to a week. It actually gets better day after day!
Want more dessert ideas? Check out my Brown Sugar Pop-Tarts, Fig Walnut Brownies and my Cream Cheese Frosted Pumpkin Cookies!