This Balsamic Onion Burger is no match for a basic veggie burger! It's topped with Sautéed Mushrooms, Caramelized Onions and my Homemade Balsamic BBQ Sauce. The patty is protein-packed and full of flavor! It's made with white, red and green onions as well as mushrooms and chickpeas for a perfect, hearty texture.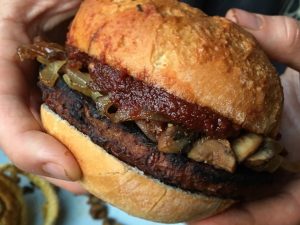 Balsamic Onion Burger
Savory, hearty and oh-so delicious! This Balsamic Onion Burger can't be beat!
Total Time
1
hour
15
minutes
Ingredients:
• 1 tbsp olive or coconut oil
• 1 medium white or yellow onion, thinly sliced
• 1 can chickpeas, drained and rinsed
• 1 cup cremini mushrooms, chopped
• 1/4 cup red onion, diced
• 1/4 cup green onions, finely chopped
• 3 garlic cloves
• 2 tbsp balsamic vinaigrette
• 1 tbsp vegan mayo
• 1/2 teaspoon smoked paprika
• 1/2 teaspoon dried thyme
• 1/4 teaspoon onion powder
• 1/4 teaspoon salt
• 1/8 teaspoon black pepper
• 1/8 teaspoon dried oregano
• 1/8 teaspoon red pepper flakes
Instructions:
1. Add the oil to a medium sized pan and heat over medium heat. Once oil is hot, add the sliced white onion. Cook until soft and slightly browned, about 10 minutes. Set aside.
2. Add remaining ingredients to a food processor and then add the cooked onions once they've cooked off a little bit. Process until smooth or just until fully combined but somewhat chunky.
3. Let chill in the refrigerator for 20-30 minutes.
4. Preheat oven to 400 degrees F and line a baking sheet with parchment paper and set aside.
5. Form mixture into four equal sized patties and transfer to the lined baking sheet.
6. Bake for until firm and browned, about 40-60 minutes.
7. Assemble burger and enjoy!!