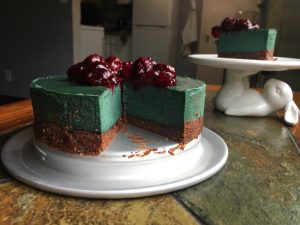 This Blackberry Spirulina Cheesecake has got to be the prettiest cheesecake I've ever made! That color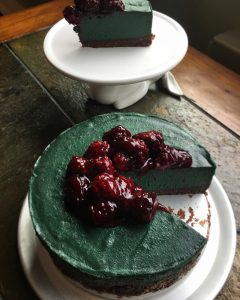 Like all of my cheesecakes, it's completely vegan and gluten-free, but the spirulina makes it extra special. Not only does it give this dessert a crazy beautiful color, but it also provides a bunch of nutrition! It is one of the world's most nutrient-dense foods, after all.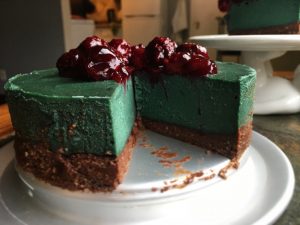 If you haven't heard of spirulina before or if you've never tried it, buy it now!! It's a little pricey but it's definitely worth it. It's packed with protein, iron, vitamin B's and much, much more. It does have somewhat of a bitter, savory, earthy flavor but that can easily be tamed with chocolate, berries, other greens, etc.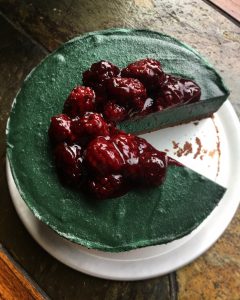 I added a whole 2 tablespoons to this cheesecake. Not gonna lie, I was kind of nervous that the spirulina flavor would take over, but man, my instincts were spot on! The spirulina gave this cheesecake a beautiful dark, rich turquoise color. The flavor, oh my goodness…so delicious! Not bitter or savory even a little bit! The flavor profile is actually kind of hard to describe, but the vanilla definitely comes through. The texture is super creamy and velvety, while being perfectly firm at the same time.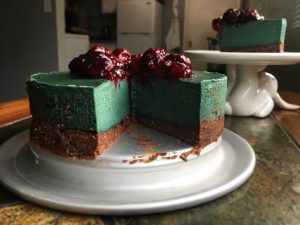 I made a chocolate pecan crust for it and topped the cheesecake with a sweet, tart blackberry sauce.  Not only does the chocolate crust and the bright, purplish-red color of the blackberries look beautiful with the turquoise filling but it's also incredibly delicious all together!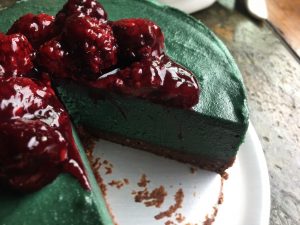 Pure cheesecake perfection, if you ask me!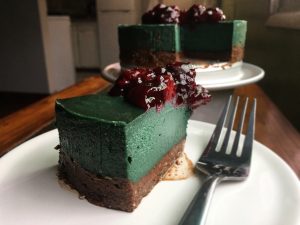 This recipe is definitely worth trying! When you do, let me know what you think! Drop a comment, rate the recipe and find me on Instagram and Facebook!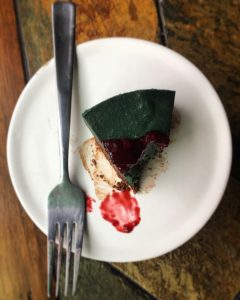 Enjoy!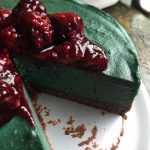 Blackberry Spirulina Cheesecake (V/GF)
Total Time
2
hours
30
minutes
Ingredients
Crust
1

cup

gluten-free rolled oats

1

cup

raw pecans

1/4

cup

coconut sugar

1/4

cup

unsweetened cocoa powder

5

tbsp

coconut oil

1/4

tsp

sea salt
Cheesecake Filling
3 1/2

cups

raw cashews

soaked in water for at least 6 hours

2/3

cup

pure maple syrup

2/3

cup

lemon juice

1/2

cup

full-fat coconut milk

1/2

cup

coconut oil

2

tbsp

spirulina powder

1

tsp

vanilla extract
Blackberry Topping
2 1/2

cups

fresh blackberries

1/4

cup

pure maple syrup

2

tbsp

lemon juice

2

tbsp

water

1

tsp

vanilla extract

2

tbsp

cornstarch mixed with 2 tbsp water
Instructions
Place the raw cashews in a bowl and cover them with a couple inches of water. Allow them to soak overnight (at least 6 hours). Drain and rinse.

Prepare the crust by adding the crust ingredients to a food processor and process until a loose dough is formed. You may need to stop the food processor a couple of times and scrape the sides with a rubber spatula.


Transfer the crust mixture to a lightly greased 10-inch spring-form pan and press it into the bottom, forming an even layer. Refrigerate the crust while you're preparing the filling.


Prepare the cheesecake filling by adding all of the ingredients for the filling to a food processor or blender and blend until completely smooth. This will require several rounds of blending. I blended mine for a few minutes to get that velvety smooth texture.


Pour the cheesecake filling into the spring-form pan and smooth evenly over the crust. Freeze for 1 hour, then place in the refrigerator and refrigerate until completely firm, about another hour.


In the meantime, make the blackberry topping. In a medium saucepan, add blackberries, maple syrup, lemon juice and water. Bring to a boil.


Once it boils, add vanilla and cornstarch mixture. Reduce heat and let cook until mixture thickens, about 3 minutes.

Remove from heat and set aside to cool and thicken more.


Remove the outside mold from the spring-form pan and top cheesecake with blackberry topping, cut into slices and enjoy!
Don't worry, I have plenty more cheesecake recipes! Check out my Chocolate Peanut Butter & Caramel Cheesecake, Key Lime Cheesecake and my Mango Ginger Cheesecake Cups!