It's Taco Tuesday and I'm celebrating with my Vegan Broccoli Tacos! The broccoli 'meat' in these tacos is exactly what your tacos have been missing!!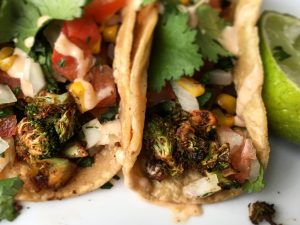 It's succulent, tender and flavored with the perfect homemade taco seasoning. It's sooo savory and delicious. I can't help but eat 7 tacos when it has this broccoli 'meat' in it! SO YUMMY! This is definitely a must try if you like fast and simple recipes! I like it best in tacos but it's also fantastic in salads, vegan omelettes and even pasta!
Broccoli Taco Meat (V/GF)
This tender, savory broccoli 'meat' is exactly what your tacos have been missing!
Ingredients
1

tbsp

chili powder

1 1/2

tsp

ground cumin

1

tsp

black pepper

1/2

tsp

paprika

1/2

tsp

salt

1/4

tsp

garlic powder

1/4

tsp

onion powder

1/4

tsp

dried oregano

1 1/2

cups

broccoli florets

finely chopped

olive oil or coconut oil for cooking
Instructions
In a small bowl, add all of the seasoning together and mix until combined. Set aside.

Add oil to a frying pan over medium-high heat. Once oil is hot, add chopped broccoli florets. Then add taco seasoning to the pan and stir to coat the broccoli evenly.


Cook until broccoli is tender, about 5 minutes.


Enjoy in your tacos, salads, pasta, etc.

If you like this recipe, you gotta check out these Mediterranean Falafel Tacos and y Pecan Chorizo!