Cucumber Tomato Bruschetta is one of my favorite summertime foods!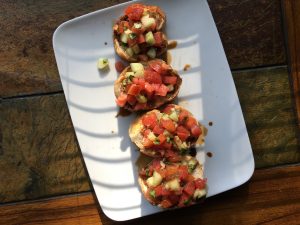 It's fresh, easy and quick to make.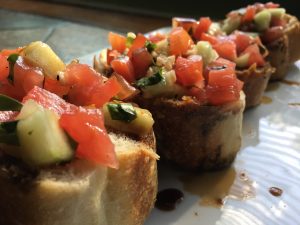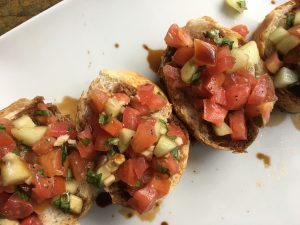 Like reaaaally easy to make! It's as simple as throw the ingredients together and placing it onto of some toasted bread! Mmmm…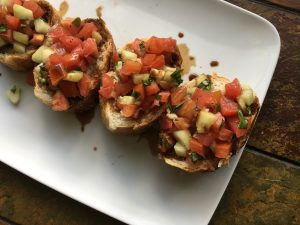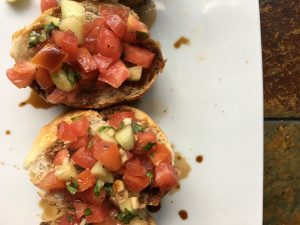 This colorful dish consists of fresh Roma Tomatoes and Cucumbers mixed with fresh Garlic and Basil immersed in Olive Oil and drizzled with Balsamic Vinegar.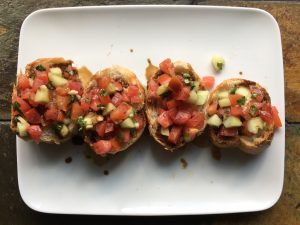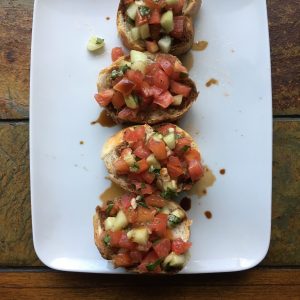 Whats not to love about that?!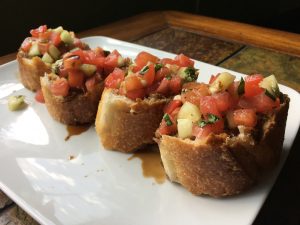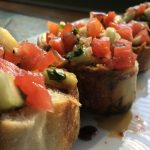 Cucumber Tomato Bruschetta (V)
This go-to appetizer comes together in minutes and is filled with fresh flavor from the juicy tomatoes, cucumbers, garlic, basil, olive oil and balsamic.
Ingredients:
• 1 cup tomatoes, pitted and diced (about 4 roma tomatoes)
• 1/2 cup cucumbers, chopped and seeds removed
• 2 cloves garlic, minced
• 5 fresh basil leaves, chopped
• 1 tablespoon olive oil
• 1/4 teaspoon salt
• 1/4 teaspoon ground black pepper
• 1/2 french baguette loaf (or bread of your choice)
• 1/2 cup balsamic vinegar
Instructions:
1. Preheat your oven to 350 degrees.
2. Slice the baguette 1/2 inch slices and lightly brush the tops with olive oil.
3. Place slices onto a parchment paper lined baking sheet and bake until slight golden, about 10 minutes.
4. While bread is in the oven, make the tomato cucumber mixture. Simply add all of the ingredients to a bowl and mix together.
5. Top each slice with a spoonful of the tomato mixture.
6. Drizzle the balsamic vinegar onto each slice of bruschetta and serve immediately. Enjoy!!
Like what you see? Check out these recipes! Baked Avocado stuffed with Strawberry Jalapeno Salsa, Sun-dried Tomato Pesto and Pea Guacamole!
Also, make sure you tag @bunnysbite on your Instagram and Facebook photos! I would love to see how my recipes turn out for you. (: