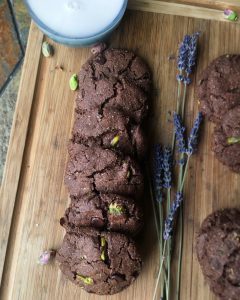 Not only does lavender smell amazing, but it also has some huge health benefits and is crazy delicious to cook and bake with! When balanced with the right foods, lavender can be very tasty and take your food from ordinary to deliciously complex. Chocolate, for example, is a great ingredient to pair with lavender since it's assertive enough to tame the lavender, while enhancing it's floral flavors at the same time.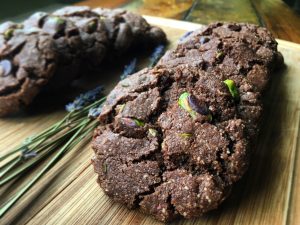 Knowing that lavender and chocolate are a great duo, I took my Double Chocolate Pistachio Cookie recipe and added a touch of lavender extract (and made some minor, yet crucial adjustments to overall improve the recipe). The results? Insanely delicious, better than I expected, super complex in flavor, but not overwhelming and straight up irresistible!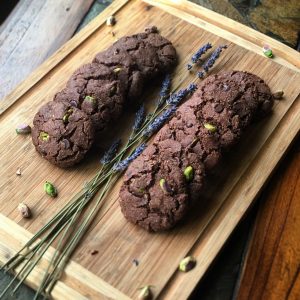 The lavender is distinct, but subtle, which will make you keep coming back for another bite and probably another whole cookie. Thanks to the lavender and the dark chocolate though, you're getting a decent dose of health when eating these babies!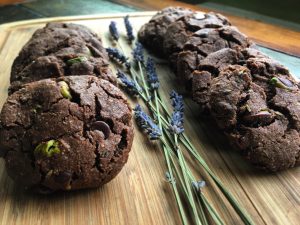 These are definitely worth putting on your baking bucket list. Just be sure to tag @bunnysbite when you make them so I can see your results!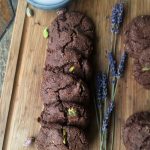 Double Chocolate Lavender Pistachio Cookies
The lavender in these cookies is distinct, but not too strong. It pairs perfectly with the dark chocolate and pistachios, making a deliciously complex, fun and irresistible cookie.
Ingredients
1/2

cup

coconut oil

1

cup

beet sugar

1/4

cup

unsweetened almond milk

1

tbsp

vanilla extract

1/4

tsp

lavender extract

1

cup

almond flour

1/2

cup

gluten free all purpose flour

1/2

cup

almond flour

5

tbsp

unsweetened cacao powder

1

tbsp

edible lavender buds

1

tsp

baking soda

1

tsp

baking powder

1/2

tsp

salt

1/4

cup

crushed pistachios

1/4

cup

dark chocolate chips
Instructions
Thoroughly mix the coconut oil and sugar together, then add the almond milk and vanilla.

In a separate bowl mix all three flours, cocoa powder, baking soda, baking powder and salt.


Combine the wet and dry ingredients, then fold in the pistachios and chocolate chips.


Let mixture chill covered in the refrigerator for about 20 minutes. Chilling the dough will make the cookies extra soft and chewy!!


Preheat oven to 350 degrees F and like a baking sheet or two with parchment paper.


Roll cookie dough into balls (2 tbsp worth) and place on prepared pan(s). There should be enough to make 18 cookies.

Bake cookies for 10-12 minutes.


Let cookies cool before serving. Enjoy!


Store leftovers (if there are any 😏) in an airtight container at room temperature for up to a week! They actually get even better after sitting for a couple nights!

Need more cookies in your life? Try my Peanut Butter Cookies, Maple Mango Pecan Cookies and my Fig Newtons!