It's almost the weekend!! So why not celebrate early with these Double Chocolate Matcha Cream Filled Cookie Sandwiches?! With a title that long, you know they must be good!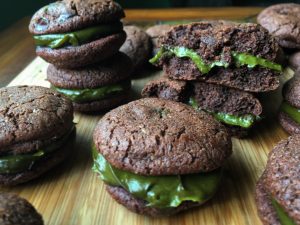 They're the vegan and gluten-free version of fudge rounds, except they're even more delicious! The cookies are super soft, fudgy, and chocolatey. The cream filling is the best part, if you ask me. Made from avocado, matcha powder and maple syrup, this filling is sooo creamy and flavorful. Combined with the double chocolate cookies, it's heaven in your mouth!
Double Chocolate Matcha Cream Filled Cookie Sandwiches
These cookie sandwiches are soft, fudgy, creamy and delicious!
Servings
12
Cookie Sandwiches
Cookie Ingredients:
• 1/2 cup coconut oil
• 1 cup coconut sugar
• 1/4 cup almond milk, unsweetened
• 1 tbsp vanilla extract
• 1 cup gluten free all purpose flour
• 1 cup almond flour
• 5 tbsp cacao powder, unsweetened
• 1 tsp baking soda
• 1 tsp baking powder
• 1/2 tsp salt
Matcha Filling Ingredients:
• 1 ripe medium avocados
• 1/4 cup pure maple syrup
• 1/4 cup matcha powder
• 1 tsp vanilla extract
.
Instructions:
.
1. Pre-heat oven to 350 degrees F and like a baking sheet or two with parchment paper.
2. Thoroughly mix the coconut oil and coconut sugar together, then add the almond milk and vanilla.
3. In a separate bowl mix both flours, cocoa powder, baking soda, baking powder and salt.
4. Combine the wet and dry ingredients, then fold in the chocolate chips.
5. Let mixture chill covered in the refrigerator for about 15-30 minutes. Chilling the dough will make the cookies extra soft and chewy!!
6. While cookie dough is chilling, make the matcha cream filling by simply processing all of the ingredients together until smooth. Let chill in the refrigerator until ready for use.
7. Once chilled, roll cookie dough into tbsp sized balls and place them on the parchment line baking sheet(s). Should make 24 cookies.
8. Bake cookies for 9 minutes.
9. Let cookies cool and then add a small spoonful of the matcha cream in between two cookies to make a sandwich. Do this with the remaining cookies.
10. Enjoy! You can let this sit out at room temperature for a day but then you'll have to store them in the refrigerator. They're amazing fresh but get even better after sitting for a day!