How's everyone's weekend going? If you need any brunch ideas, I highly recommend this Breakfast Burrito!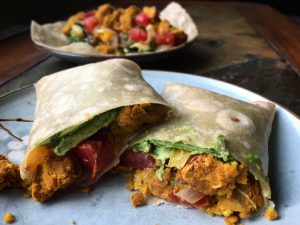 This baby is wrapped in a gluten-free tortilla and filled with vegan scrambled Chickpea 'Eggs', sautéed Zucchini, Onion, fresh Tomato and Avocado.
The 'eggs' are made from chickpeas AND aquafaba (chickpea liquid)! Such a simple recipe that can satisfy your breakfast cravings in no time!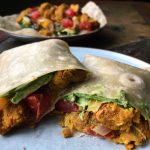 Vegan Chickpea Breakfast Burrito
Chickpeas, aquafaba and a little seasoning is all you need to make the best vegan egg!
Ingredients:
• 1 tsp coconut oil
• 1 15 oz. can chickpeas (not drained)
• 1/2 tsp garlic powder
• 1/2 tsp onion powder
• 1/2 tsp smoked paprika
• 1/2 teaspoon each salt + pepper
*the spices can vary to whatever you like! I usually use a little bit of whatever I have on hand.*
Instructions:
1. Heat the coconut oil in a medium skillet over medium heat.
2. Pour entire can of chickpeas including the liquid (aquafaba) into a blender or food processor. Toss in the spices and blend until mixture becomes smooth.
3. Pour mixture into the heated pan, using a spatula to move mixture around as it begins to cook, letting it get slightly brown before flipping mixture onto itself (like scrambled eggs). Continue cooking mixture until it has thickened and browned slightly, becoming almost mashed potato in texture. This process may take awhile. Be patient!
4. Lay chickpea eggs on a tortilla and top with desired veggies. Fold tortilla around mixture and enjoy!