It's Friday, let's eat some cake!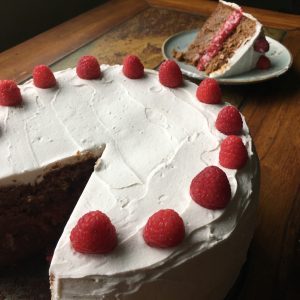 In my opinion, cake is the best way to celebrate anything from another weekend to a birthday. However, this Double Layer Raspberry Coconut Cake is a reason to celebrate on its own!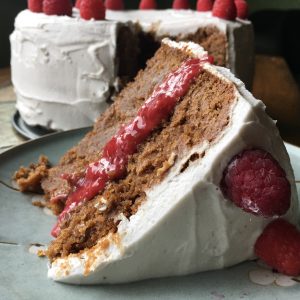 It's incredibly delicious, decadent and, best of all, it's completely vegan and gluten-free! It has a thick raspberry filling and a fresh coconut frosting.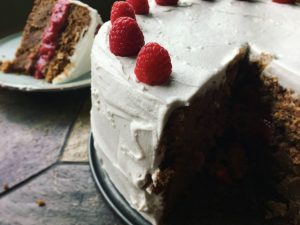 The flavors go together beautifully and makes a wonderful treat for anyone anytime!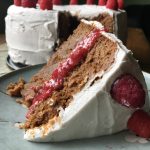 Double Layer Raspberry Coconut Cake (V/GF)
Cake Ingredients:
• 2 1/2 cups gluten free all purpose flour
• 2 1/2 cups almond flour
• 4 tsp baking soda
• 2 tsp baking powder
• 1 tsp salt
• 2 cups coconut sugar
• 1 1/3 cups coconut oil
• 1 cup applesauce
• 2 tbsp vanilla extract
• 1 1/2 cups water
Raspberry Filling Ingredients:
• 2 1/2 cups fresh raspberries
• 1/4 cup pure maple syrup
• 1/8 cup lemon juice
• 2 tbsp water
• 1 tsp vanilla
• 2 tbsp corn starch mixed with 2 tbsp water
Frosting Ingredients:
• 2 13-14 oz cans of coconut cream, chilled over night. (Use the hardened cream only, not the liquid)
• 2-4 tsp maple syrup
• 1 tsp vanilla
Instructions:
1. Lightly grease two 9 inch round springform pans and preheat the oven to 350 degrees.
2. In a bowl add both of the flours, baking soda, baking powder and salt. Mix to combine.
3. In a separate bowl, with an electric mixer, beat the coconut sugar and the coconut oil together until smooth. Add the applesauce and vanilla and mix to combine.
4. Add the wet ingredients to the dry ingredients and stir together. Lastly, add the water and mix until until fully combined.
5. Pour the cake batter evenly into the two springform pans.
6. Bake for 25 to 30 minutes or until a tooth pick can be inserted in the middle and it comes out clean. Let cakes cool completely before frosting and layering.
7. In the meantime, make the raspberry filling.
8. In a medium sauce pan, add raspberries, maple syrup, lemon juice and water. Bring to a boil.
9. Once it boils, add vanilla and corn starch mixture. Reduce heat and let cook until mixture thickens, about 3 minutes.
10. Remove from heat and set aside to cool and thicken more.
11. To make the frosting, beat the coconut cream with an electric mixer for a few minutes until creamy. Slowly add the syrup and vanilla while beating. Let chill in the refrigerator until ready for use.
12. To assemble cake, spread a thick layer of the raspberry filling on the first cake layer, then add the top layer of cake, then fully frost the cake. Slice, serve and enjoy! It is best fresh but it can keep for about 4 days stored in an airtight container in the refrigerator.