Is there any better way to start a day than with a vegan omelette?! I didn't think so 😏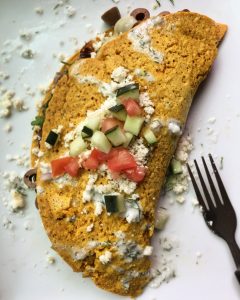 This Mediterranean Omelette is filled with Kalamata Olives, Artichokes, Sun Dried Tomatoes, Parsley, Dill and my Homemade Almond Feta (recipe in previous post!). The 'egg' is made from Chickpea Flour and is seasoned with Turmeric and Smoked Paprika. It's a deliciously satisfying meal that's completely vegan and gluten free!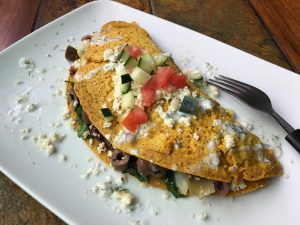 Mediterranean Chickpea Flour Omelette (V/GF)
This omelette recipe is a vegan miricale! Made from Chickpea Flour, it mimics an 'egg' texture beautifully and tastes even better!
Servings
1
Large omelette
Ingredients:
• 1/2 cup chickpea flour
• 1 tbsp nutritional yeast
• 1 tbsp ground flaxseed meal
• 1/2 tsp baking powder
• 1/4 tsp salt
• 1/4 tsp paprika (I like to use smoked paprika)
• 1/4 tsp turmeric
• 1/2 cup water
• Fillers: Artichokes, Kalamata olives, Sun Dried Tomatoes, Parsley, Dill and Almond feta. The measurements of these depends on how much you want in your omelette. Just be careful to not over stuff the omelette!
Instructions:
1. In a bowl, add first 7 ingredients and mix together. Then add water and mix until fully combined.
2. Heat a touch of oil in a medium sized frying pan over medium heat. Add the 'egg' mixture. Immediately place the parsley, artichokes, sun dried tomatoes, olives, feta and dill on half of the 'egg' mixture.
4. Cover pan and let cool until the top part of the mixture is no longer runny. Gently fold the bare half of the omelette onto the half with veggies.
5. If the omelette is too packed for the omelette to stay folded, take a small and clean frying pan and let the bottom of it sit on top of the folded omelette for just a minute or so. The omelette will stay perfectly folded after that ☺️
6. Top omelette with optional toppings like tomatoes, cucumber extra 'feta', etc. Enjoy!!