Whether you're celebrating meatless monday, or you're a lifetime veg head or you just like tasty food, this burger is for you!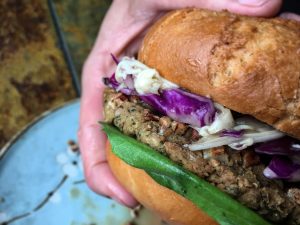 It's flavor profile is absolutely delicious. It's savory, smokey, herby and has the perfect touch of sweetness from the maple syrup. It's crusted in rosemary toasted pecans and baked to perfection. The texture is so great and hearty, even meat-eaters would be pleased!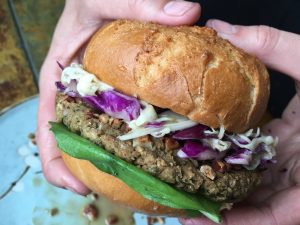 Pecan Crusted Veggie Burger
The savory, smokey and and maple flavors of this pecan crusted burger will make you want seconds if not thirds!
Total Time
1
hour
10
minutes
Ingredients:
(Burgers)
• 1 cup raw pecans
• 3 tbsp fresh rosemary, finely chopped
• 2 tbsp pure maple syrup
• 1/2 cup gluten free old fashioned oats
• 1 can chickpeas, drained and rinsed
• 1 cup fresh basil, moderately packed
• 2 tbsp liquid smoke
• 1/2 tsp garlic powder
• 1/2 tsp onion powder
• Pinch of salt
(Slaw)
• 1 cup store bought or homemade slaw (I did a mix of fresh purple cabbage and store bought coleslaw)
• 1 tbsp pure maple syrup
• 1 tbsp Dijon mustard
Instructions:
1. Preheat oven to 350 degrees F.
2. Finely mince the pecans and place in a medium sized bowl. Add the fresh rosemary and 1 tablespoon of maple syrup. Mix together and transfer to a baking sheet. Spread it out into an even layer. Toast the pecans in the oven for 5 minutes. Remove from oven and set aside.
3. In a food processor, add the oats and process until they broken down completely. It should look like flour. Or you can sub the oats for oat flour.
4. Next, add the remaining ingredients including 1/4 cup of the toasted pecans to the food processor with the oats and process until full combined. You can process it until smooth or leave it a little chunky.
5. Let mixture chill in the refrigerator for 20-30 minutes.
6. Preheat oven to 400 degrees F.
7. Form the mixture into four equal sized patties and then carefully and individually press each side of the patties into the toasted pecans to coat each each side. You may have to press the pecans in with your fingers so they stick. If the patties crack or flatten too much during this process, just smooth them out and reshape them with your fingers.
8. Bake burgers for a total of 40 minutes, flipping halfway through.
9. While burgers are baking, make coleslaw by simply mixing the ingredients together.
10. Assemble burger and enjoy!Pecan