An old-fashioned favorite with a special bunny touch, this Pineapple Upside-Down Cake is completely vegan and gluten-free all while being super indulgent and delicious!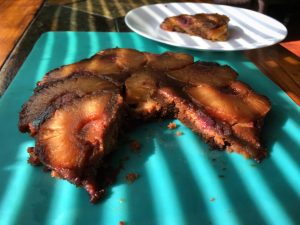 It also has fresh raspberries in it rather than maraschino cherries because it's way tastier and way healthier too!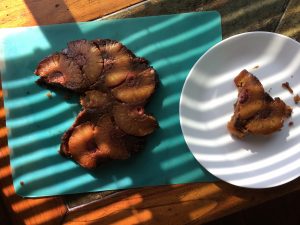 This cake is so incredibly moist, perfectly sweet and filled with warm flavors that will satisfy you with just one bite. Although, I'll guarantee you'll want more!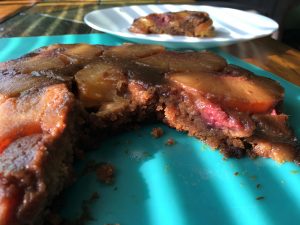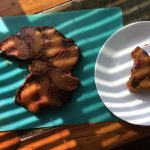 Pineapple Upside-Down Cake (V/GF)
This cake is so incredibly moist, sweet and scrumptious!
Ingredients
vegan butter

(I use Earth Balance)

coconut sugar

1

20-ounce can

pineapple slices or 5 sliced rings of fresh pineapple

about

12

raspberries

1/2

cup

gluten free all-purpose flour

1/2

cup

almond flour

3/4

cup

coconut sugar

2

tsp

baking powder

1/4

tsp

salt

1

flax-egg

*see notes

1/2

cup

vegan buttermilk

*see notes

1/3

cup

coconut cream

, chilled overnight (use the cream part only, not the liquid)

3

tbsp

coconut oil

2

tsp

vanilla extract
Instructions
Melt the vegan butter and then pour the vegan butter into a 9-inch spring form cake pan. Use your finger to run a bit of butter around the side of the pan so it's well-greased.

Evenly sprinkle ¾ cup of coconut sugar over the butter.


Cut pineapple rings in half and then line them up in a circle on top of the sugar layer. Cut a chunk of pineapple the right size to place in the center of the cake.

Place one raspberry in each half-whole in the middle of the pineapple rings. Set aside.

In a large bowl, whisk together both flours, coconut sugar, baking powder and salt. Set aside.

In a separate small bowl, whisk together flax-egg, vegan buttermilk, almond milk, coconut cream, coconut oil and vanilla.

Add the wet mixture to the dry and mix to until combined.

Gently turn pour or scoop batter into prepared pan, being careful to not mess up your pineapple slices.

Place pan on a cookie sheet (to catch anything that does overflow) and bake for about 40 minutes, or until center is set and not jiggly, and a toothpick inserted in the center comes out clean.


Place pan on a wire rack and allow cake to cool for at least 30 minutes (preferably longer) before flipping, slicing, and serving. Cake will keep airtight at room temperature for up to 5 days.
Recipe Notes
Notes: 
-To make the flax-egg, mix together 1 tbsp ground flax seeds and 3 tbsp water. Let sit for 10 minutes before use.
-To make vegan buttermilk, mix together 1 cup almond milk and 1 tbsp fresh lemon juice or apple cider vinegar. Let sit for 5-10 minutes before use.
Hungry for more? Check out my Peach Cobbler Ice Cream Cake, Raspberry Mojito Cupcakes and my Ginger Pear Cheesecake!
Did you end up trying this recipe out?! Find me on Instagram or Facebook and let me know what you think!