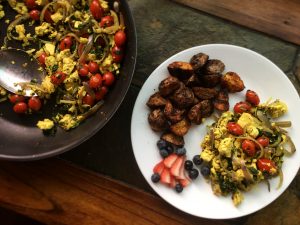 A tofu scramble is what I make when I want to treat myself to a wholesome, satisfying breakfast. It's a super easy dish that can be made in just 20 minutes, but, unfortunately, it can easily be done wrong. Tofu can often be too soft or mushy and too bland.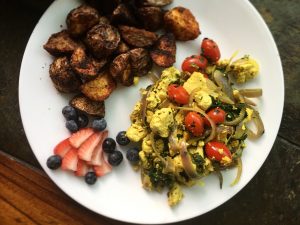 However, perfectly cooked and seasoned tofu can be one of the most satisfying things. If you get it just right, tofu can replicate eggs so amazingly and deliciously well. If you ask me, there's three key points to making the perfect tofu scramble.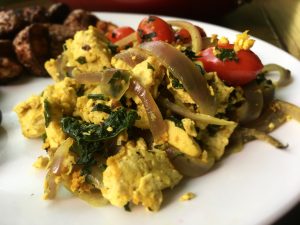 Get the perfect texture: As inconvenient as it sounds, it really is necessary to drain any excess liquid from the tofu. This can be done by placing the tofu block in between two piles of paper towel and resting a plate on top for just 10 minutes. When it comes to breaking up the tofu, the easiest and most efficient way is to use your fingers to break it into bite sized piece. When cooking, do not smash the tofu. Gently toss the tofu by scraping the sides of the skillet it's cooking in. This way you'll avoid mushy tofu. No one wants that! Especially when you're expecting a scramble.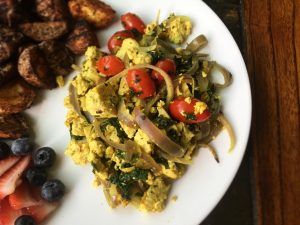 Season the tofu: You're probably thinking this is the easy part, but, surprisingly enough, most people are doing it wrong! The key is to not simply throw some seasoning on the tofu, but to create a sauce to toss in the cooked tofu. Growing up, my mom always added a splash of milk to her eggs before whisking and scrambling. This resulted in the lightest, fluffiest, most delicious eggs. So why not do the same with tofu? Well, not exactly the same. What you want to do is take whatever seasonings you'd like and mix it with just enough nondairy milk to make it runny enough to mix in with the tofu.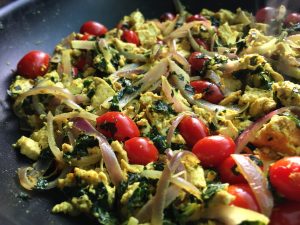 I suggest cooking the tofu until slightly golden-brown before mixing in the seasoning sauce. This way you don't get the tofu extra mushy before it even has a chance of firming up!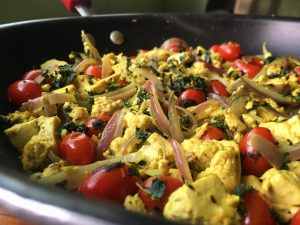 Give it color: This is where my favorite spice comes in. Turmeric is the magical ingredient that gives the tofu its beautiful egg-like color. A little goes a long way, too! Other than the lovely yellow color we all want in our egg replicas, you also will definitely want to throw in some veggies to add extra color, flavor, texture and, of course, nutrition!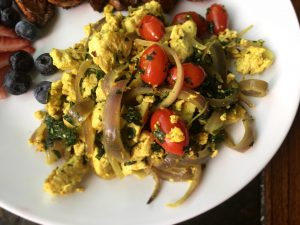 This tofu scramble is very eggy in texture, balanced in flavor and literally the most satisfying breakfast you will ever have!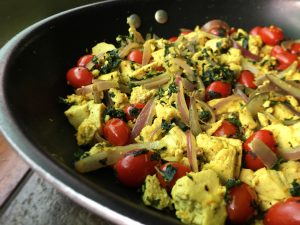 Besides it's deliciousness, this dish is also extra special and healthy because it has a generous amount of fresh turmeric, fresh ginger, fresh black pepper and fresh garlic, which all contains medical properties that are super beneficial. Turmeric is a powerful anti-inflammatory and antioxidant. If you're like me and deal with arthritis, turmeric can actually reduce inflammation in joints and even relieve pain from arthritis! Ginger, garlic and black pepper are also all helpful inflammatories and antioxidants. In fact, combining black pepper with turmeric helps you take in all of it's benefits! So when you're eating this tofu scramble along with antioxidant rich kale, you're in for a real treat!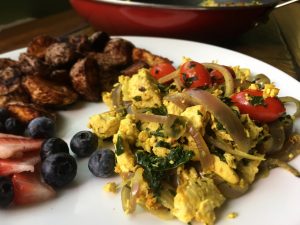 Now, I want to see your take on my tofu scramble recipe! Try it out, snap a photo and tag @bunnysbite so I can see your results!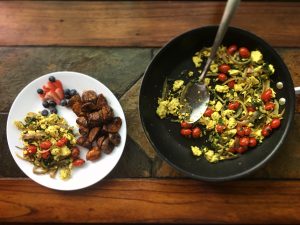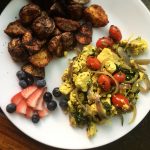 Tofu Scramble(V/GF)
Need a breakfast that's full of antioxidants, protein, vitamins, minerals and super tasty but only have 20 minutes?! No worries, this tofu scramble has got you covered!
Ingredients
Scramble
1

8 ounce package

extra firm tofu

1

tbsp

oil

(I like to use toasted sesame oil or peanut oil)

half a medium red onion

, thinly sliced

1/2

cup

cherry tomatoes

a handful of kale

roughly chopped
Sauce
1 1/2

tbsp

unsweetened nondairy milk

3

large garlic cloves

peeled and minced

1

tsp

fresh turmeric

, finely grated

1

tsp

fresh ginger

, finely grated

1/2

tsp

freshly ground black pepper

1/2

tsp

ground cumin

1/4

tsp

mustard seed powder

1/4

tsp

celery seed powder
Instructions
Start by removing any excess liquid from the tofu. Place tofu on top of a pile of paper towels or a clean kitchen towel and top the tofu with more paper towel or another towel. Then, place a large plate on top of the covered tofu. Let sit for about 10 minutes.

In the meantime, make the seasoning sauce by whisking the ingredients together. Set aside.


Heat the oil in a large skillet over medium-high heat. Once the oil is hot, and the veggies and sauté until somewhat tender, about 5-7 minutes.


Then, with your fingers or a fork, crumble the tofu into bite size pieces. Add the crumbled tofu and let cook, while stirring occasionally, until tofu starts to brown, about 5 minutes.


Lastly, stir in the prepared sauce and mix until everything is coated in sauce. It won't be saucy but all of the tofu should be yellow and seasoned well.


Serve immediately and enjoy!!

Want more breakfast ideas? Check out my Chickpea Eggs Florentine, Pumpkin Waffles and my Mango Almond Muffins!