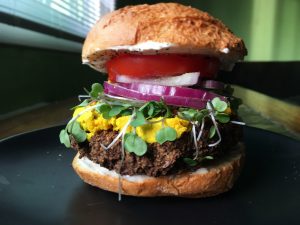 I've been eating these Black Bean Burgers with Turmeric-Almond Cheddar 'Cheese' every night since I made them…five days ago.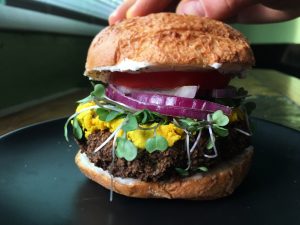 No shame about it though! They're a nutrient-packed dinner that's delicious and so incredibly satisfying. I could eat them every week!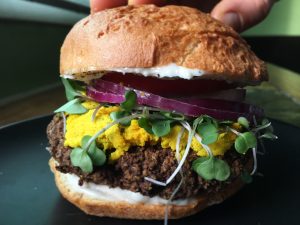 The burgers are crisp on the outside and tender on the inside and packed full of flavor. They're topped with my homemade almond-based cheddar 'cheese', which takes just 8 natural ingredients, one of them being water!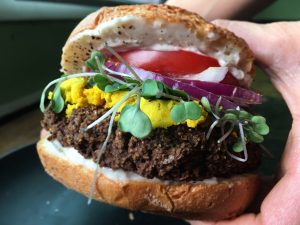 The magical ingredient that gives this cheese its beautiful yellow color is turmeric! Not only does the turmeric give it the color, but it also provides many health benefits and, when balanced with nutritional yeast, has the perfect flavor profile of cheddar. Another cool thing about this 'cheese' is that the texture can vary depending how long you choose to bake it!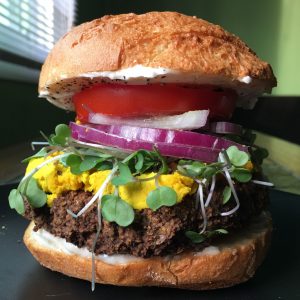 Other than the soaking of the almonds and time in the fridge, the cheese is so simple to make! The burgers are also a breeze to make. Just process the ingredients together, chill, form into patties and bake!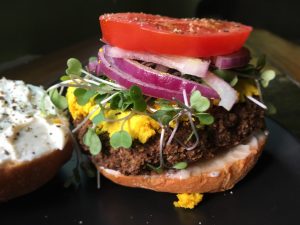 Each burger has over 15 grams of protein from the patty and 'cheese' alone! They're also made out of entirely plant-based, natural healthy ingredients. You'll feel so much better eating a cheddar burger like this than an ordinary cheddar cheese burger!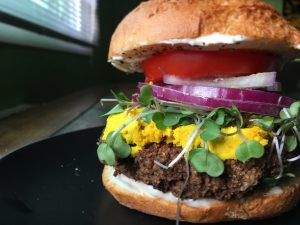 I like to top these babies with kale sprouts, red onion, a thick slice of tomato, a nice spread of horseradish and, of course, a generous amount of the cheddar. It's so satisfyingly delicious! I think next time I'm going to top them with some more southwest flavors like jalapeno, spicy mayo and, of course, the chedda'. This cheddar belongs on everything!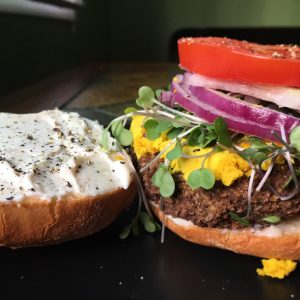 I can't wait to hear what you think!! When you make either or both of these recipes, snap a photo and tag @bunnysbite and #bunnysbite so I can see your results!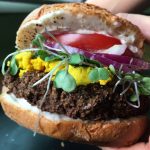 Black Bean Burger with Turmeric Almond Cheddar 'Cheese' (V/GF)
Ingredients
Turmeric Almond Cheddar 'Cheese' (V/GF)
1 1/4

cups

raw blanched almonds

soaked in water for at least 6 hours

2/3

cup

water

3

tbsp

olive oil

2 1/2

tbsp

lemon juice

1

tbsp

nutritional yeast

1

tbsp

turmeric powder

2

tsp

garlic powder

1 1/4

tsp

sea salt
Black Bean Burgers
2

14-15 oz cans

black beans

drained and rinsed

1

cup

gluten free bread crumbs

(I use Glutinos brand)

1

jalapeño

seeds removed and finely diced

1/4 of a small red onion

finely diced

1/2

cup

frozen organic sweet corn

2

garlic cloves

peeled and minced

1/2

cup

cilantro

tightly packed

1

tsp

ground cumin

1/2

tsp

chili powder

1/2

tsp

smoked paprika

1/2

tsp

salt

1/2

tsp

red pepper flakes

1/4

tsp

freshly ground black pepper

1

tsp

flax-egg

*see notes

juice from half a lime
Instructions
Turmeric Almond Cheddar 'Cheese' (V/GF)
Once almonds have soaked in water for at least 6 hours, drain the water from the almonds and transfer the almonds to a food processor or blender along with the remaining ingredients. Process/blend until smooth. You'll have to stop the process to scrape down the sides of the processor/blender a few times.

Place cheesecloth loosely over a large bowl and transfer the almond mixture to the cheesecloth allowing the liquid to drain through. Wrap the cloth around the cheese and squeeze cheese to remove any excess moisture. While squeezing out any moisture, form cheese into a ball shape.


Keep cheese wrapped in cloth and dump the bowl of liquid.


Refrigerate cheese in cloth for at least a few hours (or overnight) to let the flavors marry.


Preheat oven to 350 degrees F.


Remove cloth from cheese and transfer cheese to lightly oiled baking sheet.


Bake for 30-40 minutes, or up to an hour. The longer the cooks, the firmer it gets.


Cool before serving and enjoy!

Black Bean Burgers
Add all of the ingredients to a food processor and process until fully combined. You can process in until smooth or leave it a little chunky.

Let mixture chill in the refrigerator for 20-30 minutes.

Preheat oven to 400 degrees F and line a baking sheet with parchment paper.


Form mixture into 6 equal sized patties.


Bake for a total of 40 minutes, flipping halfway through.

Recipe Notes
To make flax egg, mix 2 tbsp of water with 1 tbsp of ground flax-seeds. Let sit for 10 minutes before use.
Wondering what you should make next? Check out my Kalamata Burger, Mexican Quinoa Salad and my Almond Cheese Stuffed Figs!