These Zucchini Apple Chia Oatmeal Cookies are everything you want in a cookie. They're soft, moist, chewy, sweet and comforting. They're also vegan and gluten free! Whoop whoop!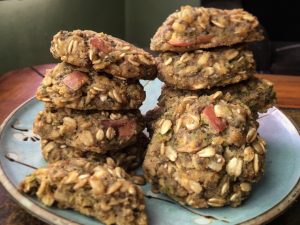 They're filled with Zucchini, Apples, Lemon Zest, Chia Seeds and hearty Oats. They're incredibly moist from the zucchini, the apples give them a crisp, tart crunch, the lemon zest gives them an amazing burst of fresh, bright flavor and the chia seeds and oat makes them so very soft and chewy!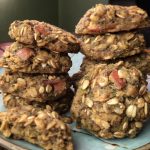 Zucchini Apple Chia Oatmeal Cookies (V/GF)
These cookies are moist, soft and chewy. They're filled with a bright lemon flavor and have a tart, crisp crunch from the apples.
Ingredients:
• 1 cup gluten free old-fashion oats
• 6 tbsp gluten free all purpose flour
• 6 tbsp almond flour
• 2 tbsp chia seeds
• 1 1/2 tsp baking powder
• 1 1/2 tsp cinnamon
• 1/8 tsp salt
• 1/2 cup pure maple syrup
• 1/4 cup applesauce, unsweetened
• 2 tbsp coconut oil, room temperature
• 1 tbsp lemon zest
• 1 tsp vanilla
• 3/4 cup grated zucchini
• 1/2 small apple, chopped (with skin on. It gives the cookie a nice color and extra nutrition!)
Instructions:
1. Preheat oven to 350 and line a baking sheet with parchment paper. Set baking sheet aside.
2. In a large bowl, add the oats, both flours, chia seeds, baking powder, cinnamon and salt. Mix until fully combined.
3. In a separate bowl, mix together the maple syrup, applesauce, coconut oil and vanilla until fully combined.
4. Add wet mixture to dry mixture and mix until fully combined. Add the grated zucchini and apples. Stir to combined.
5. Let mixture chill in the refrigerator for at least 20 minutes.
6. With a spoon, scoop two spoonfuls worth of batter onto baking sheet to make about 16 cookies.
7. Bake for 12-15 minutes. Let cool before eating and enjoy!! Store leftovers covered at room temperature for up to a week.