Did you know you can get your protein in and have a sweet dessert at the same time?! It's true! These Chocolate Chip Protein Cookies are a tasty treat that satisfies your sweet tooth with the benefits of protein!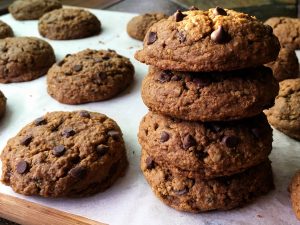 They're made with my favorite protein powder, Chocolate Vega. They're also completely vegan and gluten-free, so having a couple of these after a workout is really just a smart decision. 😉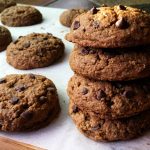 Chocolate Chip Protein Cookies
Getting your protein in has never been so sweet! These cookies are soft, sweet and full of chocolaty protein!
Ingredients:
• 1/2 cup coconut oil
• 1 cup coconut sugar
• 1/4 cup almond milk, unsweetened
• 1 tbsp vanilla extract
• 1 cup gluten free all purpose flour
• 1 cup almond flour
• 5 tbsp Chocolate Vega Protein Powder
• 1 tsp baking soda
• 1 tsp baking powder
• 1/2 tsp salt
• 1/4 cup dark chocolate chips
Instructions:
1. Thoroughly mix the coconut oil and coconut sugar together, then add the almond milk and vanilla.
2. In a separate bowl mix both flours, protein powder, baking soda, baking powder and salt.
3. Combine the wet and dry ingredients, then fold in the chocolate chips.
4. Let mixture chill covered in the refrigerator for about 20 minutes. Chilling the dough will make the cookies extra soft and chewy!!
5. Pre-heat oven to 350 degrees F and like a baking sheet or two with parchment paper.
6. Roll cookie dough into balls (2 tbsp worth) and place on prepared pan(s). There should be enough to make 18 cookies.
7. Bake cookies for 9-12 minutes. They may look like they need more time in the oven, but under-baking the cookies will make them soft and chewy.
8. Let cookies cool before serving. Enjoy!
9. Store leftovers (if there are any 😏) in an airtight container at room temperature for up to a week! They actually get even better after sitting for a couple nights!