It's finally #TacoTuesday!!  I'm enjoying my tacos with my Homemade Pea Gaucamole!! Adding peas to your gauc is such an easy way to get a bunch of vegan protein in!! These tacos also feature Beyond Meat's Feisty Crumble which is loaded with pea-based protein as well!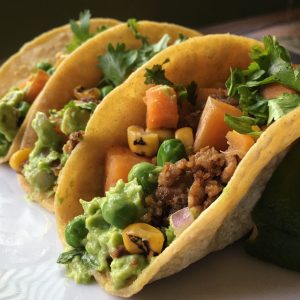 They're also full of sweet potatoes, corn, cilantro and more peas! So delicious!!!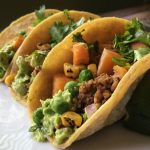 Pea Gaucamole
This pea gaucamole is life changing! It's everything you love about gaucamole but packed with protein!!
Ingredient:
• 1 cup frozen peas, thawed
• 2 avocados
• 1 ripe tomato, chopped
• 1/4 – 1/2 cup fresh cilantro, chopped
• 1/4 cup red onion, chopped
• 1 small jalapeno, finely diced
• Juice from half a lime
• sea salt to taste
Instructions:
1. Place peas and avocado in a food processor and process until smooth. Then, transfer the avocado and pea mixture to a bowl and add the remaining ingredients. Stir together. Serve and enjoy!! Store leftovers covered in the refrigerator for 3-4 days.