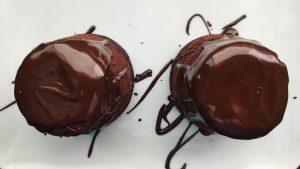 It seems like every fancy restaurant has a chocolate lava cake on the menu. They make it so irresistible to order with it's ooey gooey chocolaty goodness.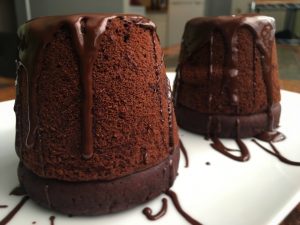 Turns out, they're quite simple to make. They're even easy to make completely vegan, gluten-free, oil-free and, overall, somewhat healthy!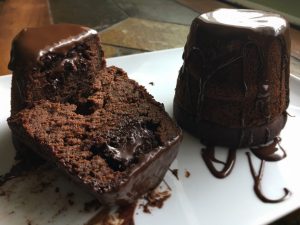 Swapping oil with nut butter works beautifully in this recipe. It gives in the fat it needs with using an all-natural whole food. Using nut butter (I use peanut butter) also gives it some extra deliciousness.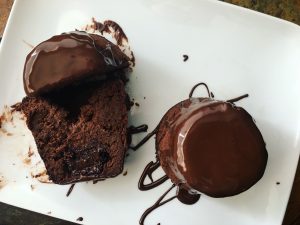 These cakes are super fudgy, chocolaty, rich, decadent and delicious. This recipe is also pretty cool because it only takes 30 minutes start to finish to make!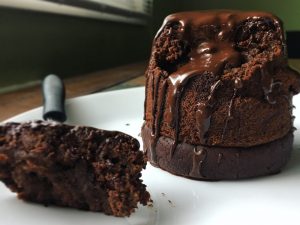 I'd love to hear what you think if you end up trying this recipe out! Find me on Instagram and Facebook to share your results with me!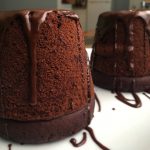 Chocolate Espresso Lava Cake (V/GF)
This Chocolate Espresso Cake is super fudgy, moist and filled with ooey-gooey espresso flavored chocolate. It's also vegan, gluten-free and oil-free but you'd never know by tasting it!
Ingredients
1/2

cup

vegan buttermilk

*see notes

1/2

cup

unsweetened applesauce

5

tbsp

coconut sugar

2

tbsp

nut butter

(I use natural creamy peanut butter)

2

tsp

vanilla extract

1/4

cup

unsweetened cocoa powder

1/2

cup + 1 tbsp

gluten free all purpose flour

1/2

tsp

baking powder

pinch of sea salt

1/4

cup

dark chocolate chips

, melted

4

squares

espresso or coffee flavored dark chocolate
Instructions
Preheat oven to 375 degrees F. Lightly grease two jumbo size muffin tins with dairy-free butter and coat with cocoa powder. Turn the an upside down over the sink and tap out any excess cocoa powder.

Let the vegan buttermilk sit for at least 5 minutes to activate. Then add it to a large bowl along with the applesauce, coconut sugar, nut butter and vanilla and beat until smooth. Then add the cocoa powder, flour, baking powder, and salt. Mix to combine.

Then, add the melted dark chocolate and mix once more.

Divide the batter evenly between the two muffin tins - it should come up about to the top. Push 2 squares of the coffee flavored chocolate into each center of the cakes.

Bake for 20-25 minutes, or until the edges have pulled away slightly and the top no longer appears wet. It should be fudgy, but not under-cooked.

Let rest in the pan for 5 minutes before removing. Then gently loosen the edges with a butter knife and top with a cutting board or plate and carefully invert. Gently transfer to serving plates.

Serve immediately and enjoy!
Recipe Notes
To make vegan buttermilk, mix together 1 cup almond milk and 1 tbsp fresh lemon juice or apple cider vinegar. Let sit for 5-10 minutes before use.
Want more sweets? Check out my  Chocolate Peanut Butter & Caramel Cheesecake, Chocolate Mousse Cake and my Oatmeal Date Cookies.