I debated for awhile whether I should call these granola bars or not. I came to the conclusion that these are much more worthy than that!!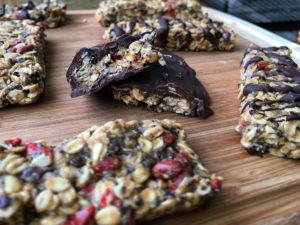 They're full of superfood ingredients like Dark Chocolate, Natural Peanut Butter, Goji Berries, Cacao Nibs, Coconut Oil, Pure Maple Syrup and, of course, Chia Seeds. Which means, they're loaded with protein, fiber, omega 3s, antioxidants and essential vitamins and minerals!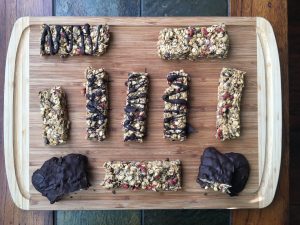 With all of that nutrition packed in there, would you believe that they actually taste like candy bars?! Eating this healthy has never tasted so good 😊
Dark Chocolate Covered Superfood Bars
Eating healthy has never tasted so good! These bars are packed with oats, peanut butter, goji berries, cacao nibs, chia seeds and dipped in dark chocolate. So yummy!
Ingredients:
• 2 cups gluten free gluten free old fashioned oats
• 3/4 cup creamy natural peanut butter
• 1/4 cup goji berries
• 1/4 cacao nibs
• 1/4 cup coconut oil
• 1/4 cup pure maple syrup
• 1/4 cup chia seeds
• 1 cup vegan dark chocolate chips, melted (optional)
Instructions:
1. Place all of the ingredients besides the optional dark chocolate in a bowl and mix well until thoroughly combined.
2. Line a square baking pan with parchment paper press the mixture into the pan. Take your time really pressing it in there, this will help them hold together properly.
3. Place in the freezer for at least 30 minutes.
4. Remove from freezer and let thaw for 5 minutes. Cut into 8 bars or 16 squares. Drizzle or dip the bars with melted dark chocolate and enjoy!! Store in the fridge or freezer in a sealed container.