How does Homemade Green Noodles made out of just 4 ingredients, one of them being water and another being one of the world's most nutrient-dense foods, sound?!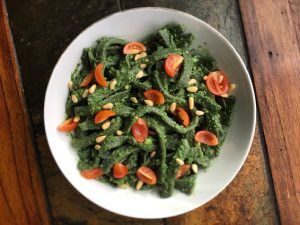 Being a vegan and gluten-free chef and baker, it's always been a goal of mine to make homemade pasta. I was always intimidated but, once I gave it a shot, I realized how easy it actually is!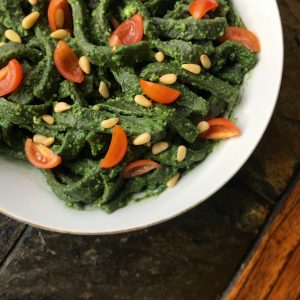 No need for unusual tools, expensive ingredients or complicated steps. It's as easy as mixing, rolling the dough and boiling!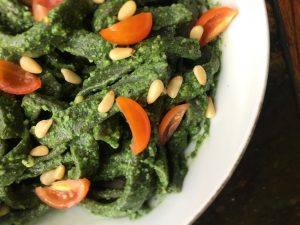 Since I'm currently obsessed with spirulina, I added a touch of it in the recipe, which gives these noodles it's dark green color and an extra boost of nutrients. Since I added spirulina to the noodles, it seemed fitting to toss them in my Spirulina Pesto and man, am I glad I did! Such a tasty meal!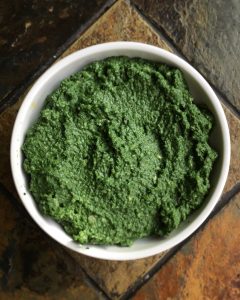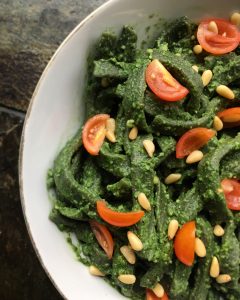 Unfortunately, I didn't get a chance to snap photos of the process, but I'll update this recipe soon with some step-by-step photos! Although, the process really is so easy and, as long as you follow the instructions exactly, you're noodles will turn out beautifully and deliciously!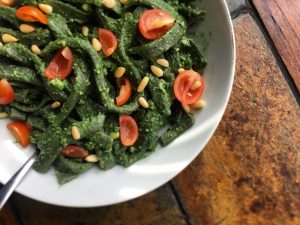 I look forward to hearing what you think! Drop a comment below, rate the recipe and tag @bunnysbite on your Instagram and Facebook photos so I can see your results!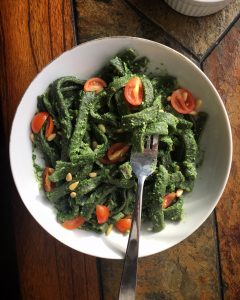 Enjoy everyone!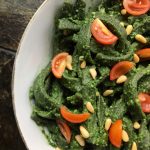 Homemade Green Noodles (V/GF)
Homemade vegan and gluten-free noodles made out of 4 ingredients, one of them being water and another being the world's most nutrient-dense foods. No complicated steps, unusual tools or expensive ingredients!

Ingredients
2

cups

gluten-free all purpose flour

1

tsp

salt

1

tsp

spirulina powder

1/2

cup

lukewarm water
Instructions
Mix all of the ingredients together in a large bowl. Work the dough a the bowl until it forms a stiff dough. You may need to add more water. The dough should feel like play-dough (it'll kind of look like it too!). I ended up adding about 2 extra tablespoons of water to reach the right consistency.

Roll the dough into a ball and kneed on a well-floured surface for 10 minutes. *see notes


Split the dough into 2 balls of dough and cover one of them with plastic wrap. Place the wrapped ball of dough aside while you roll out the first ball.


Roll the first ball of dough out until it's 1/16" thin. Cut the dough into strips. You may do a different shape if you'd like, but cutting it into strips is easiest. Set the strips aside and repeat the step with the second ball of dough.


Cook the noodles in boiling water for 3-4 minutes. The noodles should be flexible but still slightly firm at the center.


With a strainer, drain the water from the noodles.


Dress the noodles in your favorite pasta sauce and serve immediately. Enjoy!

Recipe Notes
Notes: To knead dough, fold the dough and then push it with the heel of your hand. Turn the dough and repeat folding and pushing until the dough reaches a smooth and elastic consistency.
If you like this recipe, you might also like my Baked Butternut Squash Mac n Cheese, Homemade Marinara and my Thai Cucumber Bowl!