This Thai Cucumber Noodle Bowl is a really fun way to use up your cucumbers this summer!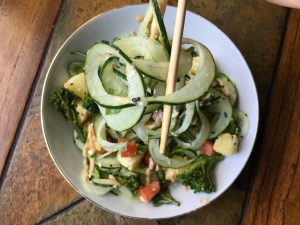 It's a naturally raw, vegan and gluten free meal and it's as simple as spiralizing your cucumbers into long, bouncy noodles and topping it with some goodies!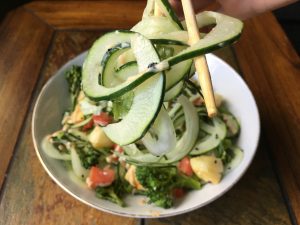 For this bowl, I top it with my Homemade Peanut Sauce, Broccolini, Tomatoes, Roasted Pineapple, Cilantro and Sesame Seeds.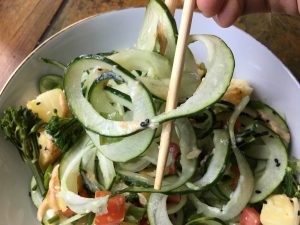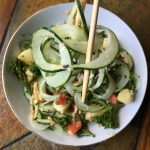 Thai Cucumber Noodle Bowl
Packed with a bunch of goodies like pineapple, peanut sauce and broccolini, this Thai-inspired noodle bowl is as flavorful as it gets! It's also naturally raw, vegan and gluten-free!
Ingredients:
2 cucumbers
Recommended Toppings: peanut sauce (recipe below), broccolini, tomatoes, pineapple, cilantro, sesame seeds, etc.
Instructions:
1. With a spiralizer, spiralize the cucumbers into noodles. Place the noodles in two bowls. Do your best to remove any seeds from the noodles. It's ok if you leave them, though. Add your toppings and enjoy!
Peanut Sauce Ingredients:
1/2 cup natural creamy peanut butter
1/2 cup coconut cream or milk (full fat)
1 tbsp rice vinegar
1 tbsp toasted sesame oil
2 tsp fresh ginger, finely grated
1/2 tsp garlic powder
1 tsp hot sauce
Peanut Sauce Instructions:
1. In a food processor, process ingredients together until smooth. Serve immediately as a sauce to flatbread, noodles, salads, etc. Enjoy! Store leftover is the refrigerator for 5-7 days.
Still hungry? Check out this Spicy Thai Kale Soup and, for dessert, try this Chocolate, Vanilla or Raspberry Chia Pudding!
Happy with your results? Let me know! Drop a comment, rate the recipe and be sure to tag @bunnysbite on your Instagram and Facebook photos!