This creamy spread is made from garlicky chickpeas and kalamata olives that's filled with flavor from fresh lemon juice, tahini and cumin. It's delicious as a dip for veggies, a spread for sandwiches or even as a thick dressing for salad! Best of all, it's as simple as just blending the ingredients together!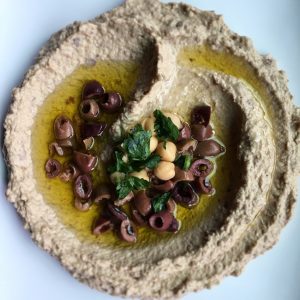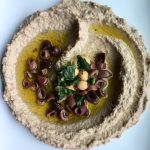 Kalamata Hummus (V/GF)
Filled with kalamata olives, this creamy hummus is extra flavorful and delicious! Takes 5 minutes to make and no skill in the kitchen at all! 😏
Ingredients:
• 1 (15 oz) can of chickpeas, rinsed and drained
• 1/2 cup pitted kalamata olives, rinsed
• 2 cloves garlic cloves, peeled
• 1/4 cup fresh lemon juice
• 1/4 cup tahini
• 2 tbs aquafaba (liquid from can of chickpeas)
• 1 tsp ground cumin
• 1/4 tsp sea salt
• 1/4 tsp smoked paprika (optional)
• Pinch of black pepper
Instructions:
1. In a food processor or blender, ingredients until smooth and enjoy! Store leftovers covered in the refrigerator for up to a week.