These Olive and Feta Biscuits are a must try! They're packed with Herbs, Green Olives, Homemade Almond 'Feta Cheese' and Pumpkin Seeds.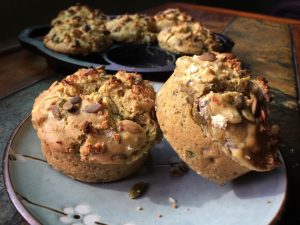 They're also made with Chickpea Flour, making them seriously scrumptious! The chickpea flour gives the biscuits a nutty flavor that pairs so deliciously well with the herbs and spices.
The green olives and almond feta take these babies to a whole other level!! I don't know what I like best about these biscuits: the bold flavors, the high protein content or the fact that they take less than 30 minutes to make!
This recipe makes 9 medium sized biscuits. Double the recipe to make 9 large biscuits like I have in the photo above.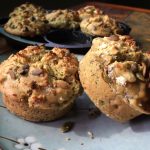 Olive 'Feta' Biscuits
Filled with green olives, almond-based 'feta', pumpkin seeds and herbs, these biscuits are savory, satisfying and so scrumptious!
Biscuit Ingredients: 
• 1 1/4 cup gluten-free all purpose flour
• 1 cup chickpea (garbanzo bean) flour
• 1 1/2 tsp baking powder
• 1/2 tsp baking soda
• 4 tbsp coconut oil, room temperature
• 1 cup vegan buttermilk (1 cup non-dairy milk + 1 tbsp apple cider vinegar mixed and set for 5-10 minutes)
• 1 tbsp nutritional yeast
• 1 tbsp flaxseeds
• 1 tsp onion powder
• 1 tsp pink Himalayan salt
• 1 tsp red pepper flakes
• 1/2 tsp dried rosemary
• 1/2 tsp dried basil
• 1/2 tsp rubbed sage
• 1/2 tsp dried thyme
• 1/4 cup pitted green olives, chopped
• 1/4 cup almond feta cheese (recipe below!)
• 1/4 cup pumpkin seeds
Biscuit Instructions:
1. Preheat oven to 400 degrees F.
2. Add both flours, baking powder, baking soda, salt and coconut oil to food processor.
3. Pulse a few times until fully mixed (should be a little crumbly).
4. Either transfer to a bowl along with the remaining ingredients and mix until combined or add the remaining ingredients to the food processor and pulse until combined.
5. Lightly oil a cast iron biscuit pan or a baking sheet with oil. I use coconut oil!
6. With a spoon, scoop biscuit batter (2 spoonfuls worth) and place on the cast iron biscuit pan or baking sheet. If you're doubling the recipe to make the large biscuits, do 3-4 scoops per biscuit.
7. With spoon or fingers, form dough to a smooth round form. If you're using a cast iron pan, just smooth out the top of the biscuits and make sure they're nicely packed in the biscuit molds.
8. Repeat steps 6 and 7 with the rest of the batter.
9. Lightly brush melted coconut oil, vegan butter or olive oil over the tops of the biscuits.
10. Bake for about 15-20 minutes (until golden brown on top)
11. Let cool slightly before serving and enjoy!
Almond Feta Ingredients:
• 1 1/4 cup raw blanched almonds, soaked in water for at least 6 hours
• 2 1/2 tbsp lemon juice
• 3 tbsp olive oil
• 1 tbsp garlic powder
• 1 1/4 tsp sea salt
• 2/3 cup water
Almond Feta Instructions:
1. Drain the water from the almonds and transfer soaked almonds to a food processor along with the remaining ingredients. Process until smooth. You'll have to stop it a few times to scrapes down the sides of the food processor.
2. Loosely place a cheesecloth over a large bowl and pour the almond mixture onto the cheesecloth allowing the liquid to drain through. Wrap the cheesecloth around the almond mixture and squeeze to remove any excess moisture. Squeeze while forming the 'cheese' into a ball shape.
3. Keep cheese wrapped tightly in cloth and drain liquid from bowl. Place wrapped cheese in bowl and let chill in the refrigerator for at least 4 hours to let the flavors marry.
4. After chilling, preheat oven to 350 degrees F and lightly grease a baking sheet. Remove the cheesecloth from the ball of cheese and place the cheese on the prepared pan.
5. Bake until firm, about 20-22 minutes.
6. Let cool slightly before serving and enjoy!' The texture will be crumbly and creamy! Store leftovers tightly covered in the refrigerator up for a week.