If you've made my Lemon Coconut Cupcakes before, then you might have an idea how delicious these Lemon Lavender Cupcakes are. If you've made my Lavender Icing before, then you'll definitely have an idea how scrumptious these are.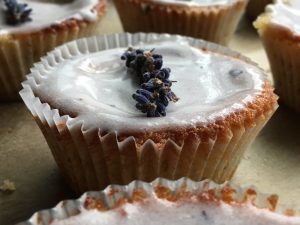 But, imagining isn't good enough when it comes to these cupcakes. These are a must make! Each bite is truly pure bliss. You're taste buds will never be happier!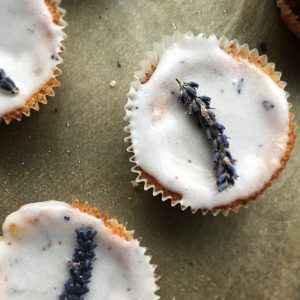 I used dried edible lavender buds in the cakes and lavender extract in the icing, as well as some blueberries for a natural food coloring. The cakes are perfectly sweet, bright in flavor, super light, spongy, soft and moist. The lavender icing is the perfect light and creamy element on top.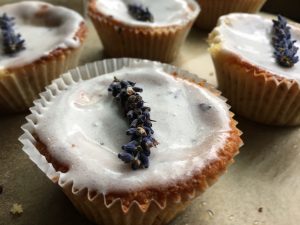 The bright citrus flavors of the lemon compliment the floral lavender flavors almost too well, making a super delicious and fun flavor combination!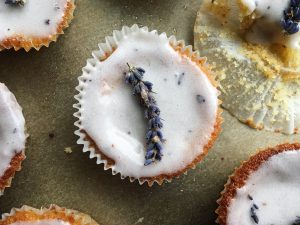 I can't wait to hear what you think!! When you try them out, snap a photo and tag @bunnysbite and #bunnysbite so I can see your results!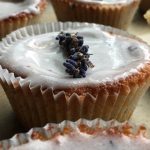 Lemon Lavender Cupcakes (V/GF)
These Lemon Lavender Cupcakes perfectly sweet, bright in flavor and will make you feel like it's a beautiful spring day any time of year! They're super light, spongy and topped with a creamy, light lavender glaze.
Ingredients
Cupcakes
1

cup

gluten free all-purpose flour

1

cup

almond flour

1/2

tsp

salt

1/2

tsp

baking powder

1/2

tsp

baking salt

1

cup

beet sugar

1/2

cup

coconut oil

1

flax-egg

*see notes

1/2

cup

fresh lemon juice

1/2

cup

full fat coconut milk or cream

1

tbsp

dried edible lavender buds

2

tsp

vanilla extract
Lavender Icing
1/2

cup

full fat coconut cream

(cream part only, not liquid)

1

cup

powdered beet sugar

*see notes

1/2

tbsp

unsweetened non dairy milk

(I use almond milk)

1

tsp

vanilla extract

1/4

tsp

lavender extract

Natural Food Coloring

(optional) *see notes
Instructions
Preheat oven to 350°F. Line a muffin pan with 12 cupcake liners.

In a medium bowl, mix together both flours, baking powder, baking soda salt and lavender buds. Set aside.


With an electric mixer, beat the beet sugar and coconut oil together until smooth. Whisk in the flax-egg, lemon juice, coconut milk and vanilla extract until combined.


Slowly mix the dry ingredients into the wet ingredients until no lumps remain. Fill cupcake liners 2/3 of the way full.


Bake for 25 minutes or until a toothpick inserted in the center comes out clean. Allow to cool completely before icing.


While cupcakes are cooling, make the icing.


With an electric mixer, beat together the coconut cream and beet sugar until smooth. Gradually add in the almond milk and both of the extracts. Then add a drop or two of the natural food dye (see notes). Beat until fully incorporated.


Ice the cooled cupcakes and enjoy!!


Store leftovers in an airtight concealer at room temperature.
Recipe Notes
To make flax eggs, whisk together 1 tbsp of ground flax seeds and 2 tbsp of water and let sit for 5-10 minutes.
For the powder beet sugar, simply process or blend beet sugar until it becomes a powder-like texture. This will only take a few minutes at most! Alternatively, you can use regular powdered sugar for this recipe and it will still be great!
For the natural food color, simply blend together a small amount of blueberries with enough water to make it runny, about 1 tablespoon. Use a drop or a few drops of the liquid to the cheesecake mixture (more for a deeper color, less for a mild color).
Curious what else you can do with lavender? Check out my Honey Lavender Cheesecake and my Double Chocolate Lavender Pistachio Cookies!