Olives are one of the key ingredients to a good Mediterranean meal, especially these Mediterranean Tacos!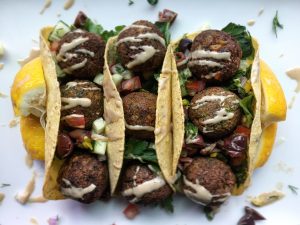 Stuffed with Homemade Falafel and Homemade Olive Salsa, these babies are both exotic and healthful.  The vinegariness from the olives and peperoncinis pair beautifully with the bright and citrusy flavors of the herbs in the salsa. The Falafel is fried to complete perfection and is packed with flavor. Together, the salsa and Falafel make the most satisfying flavor combination and meal!!
Mediterranean Tacos with Falafel and Olive Salsa (V/GF)
Step up your taco game with these Mediterranean Tacos! They're filled with crispy falafel and flavor-packed olive salsa.
Prep Time
1
hour
10
minutes
Total Time
1
hour
20
minutes
Olive Salsa Ingredients:
• 1/4 cup pitted kalamata olives
• 1/4 cup cucumber, diced
• 1/4 cup tomato, diced
• 1/4 cup peperoncinis, diced
• 1 tbsp fresh parsley, finely chopped
• 1 tbsp fresh dill, finely chopped
• 1 tsp lemon juice
Olive Salsa Instructions:
1. Combined all of the ingredients together and enjoy!
Falafel Ingredients:
• 2 cups dried chickpeas
• 5-6 cups water
• 1 tsp whole cumin seed
• 1 tsp whole coriander seed
• 3 cloves garlic, minced
• 1 small red onion, peeled and finely chopped
• 1 cup packed fresh cilantro leaves
• 1 cup packed fresh parsley leaves
• Zest of 1 lemon
• 1/4 tsp cayenne
• 1 1/2 tsp salt
• 1/2 tsp ground black pepper
• grape seed oil for frying
Falafel Instructions:
1. Place chickpeas in a large pot or dutch oven and cover with 5-6 cups of water. Bring to a boil and let boil for 2 minutes. Remove from heat. Cover with a lid and let the chickpeas sit in the water for at least an hour. Drain chickpeas from water and rinse with fresh water.
2. In the meantime, place the cumin and coriander seeds in a frying pan over medium-high heat. Cook until the seeds give off an aroma and just begin to brown, 3-4 minutes. Shake the pan often during this cooking time to assure the spices won't burn. Transfer the toasted spices to a spice grinder and process until finely ground. Set aside.
3. Place the drained chickpeas, ground spices, garlic, onion, cilantro, and parsley into a large mixing bowl. Stir to combine. Transfer mixture to a food processor and process until smooth (some chunks/texture is ok). You make have to do this in rounds depending on the size of your food processor.
4. Mix the lemon zest, cayenne, salt, and black pepper into the chickpea mixture and mix until fully combined.
5. Roll the mixture into a uniform size balls (2 tbsp worth) with your hands. The mixture should hold together nicely and not fall apart.
6. Place the uncooked falafel on a large plate or baking sheet until ready to cook.
7. Pour oil in a large pot of dutch oven (enough to cover the falafel). Place a thermometer into the oil and heat over med-high heat until the temperature reaches 360 degrees – 375 degrees F.
8. When the oil is to temp,fry a test falafel. The oil should bubble up and sizzle all around it. The falafel itself should stay together in one piece and not break apart at all. It should take 2-3 minutes to fry to a beautiful golden brown. If your falafel is not completely submerged flip and cook the other side until it's nice and browned all over. Remove the cooked falafel from the oil and place on a pile of paper towels or a wire rack to remove any excess oil. Fry the remaining falafel in batches, being careful to not over crowd the pan and drop the temp of the oil.
9. Serve falafel and enjoy! Store leftovers covered in the refrigerator for up to 4 days. They will get drier the longer they sit. Reheat in oven or microwave before serving again. You can also store them in the freezer for a few months!