I swear, everything is better when it's pickled! Especially Watermelon rinds!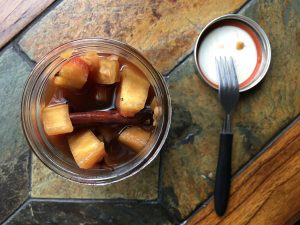 That's right, don't be so quick to throw out your watermelon scraps! You'd be surprised with what you can make with them!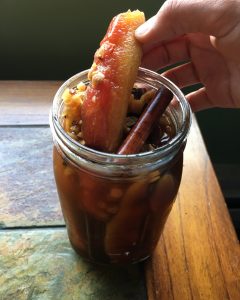 I like to think of watermelon rinds more as a vegetable rather than waste . They have that crisp, mouthwatering crunch to them, similar to a cucumber.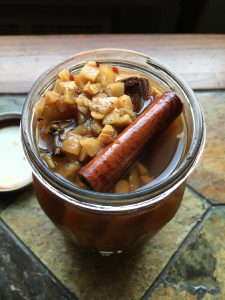 Just like cucumbers, watermelon rinds are crazy delicious when pickled, especially with crystallized ginger, cinnamon sticks and whole cloves. Seriously, SO yummy!!!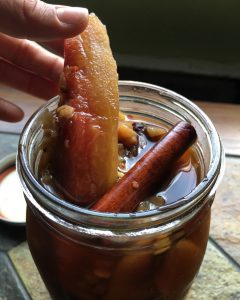 I could eat these straight out of the jar. One after the other, after the other, after the other… you get the point!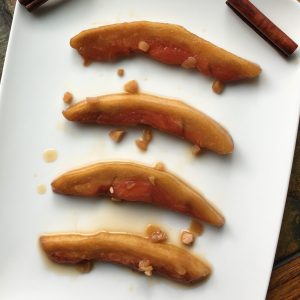 Now hop your butt in the kitchen and make these babies! You won't regret it (;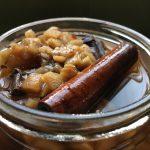 Pickled Watermelon Rinds (V/GF)
Watermelon rinds pickled with crystallized ginger, cinnamon sticks and whole cloves.
Ingredients
Rind from a watermelon 3 pound watermelon

1

cup

apple cider vinegar

1

cup

water

3/4

cup

coconut sugar

2

ounces

candied or crystallized ginger chunks

( 1/4 cup)

6-8

cinnamon sticks

1

tbsp

whole cloves

4

tsp

kosher salt

1

tsp

red pepper flakes
Instructions
Scoop out melon leaving about 1/4-1/2 inch of pink flesh.


Peel off outer green skin with vegetable peeler or a knife and then cut the rinds into spears or cubes, whichever you prefer.

In a medium saucepan, bring the apple cider vinegar, water, coconut sugar, ginger, cinnamon sticks, cloves, salt and pepper flakes to a boil over medium-high. Hold the boil for about a minute, then remove from heat. Set aside.

Place the sliced rinds to a 2-quart jar. Pour the pickling juice into the jar, covering the rinds. Cover the jar and leave on the counter to cool to room temperature.

Transfer the pickled rinds to the refrigerator and refrigerate for two days before opening.

These will last for up to a month. Enjoy!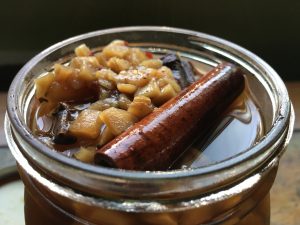 I'd love to hear what you think! Leave a comment, rate the recipe and share your photos with me on Instagram and Facebook!