If you would've asked me a while ago what my favorite cucumber-based recipe would be, I'd say pickles without hesitation. Once, I realized how tasty the combination of falafel and pickles were, these Fried Falafel Pickles were created and now normal pickles just don't quite do it for me!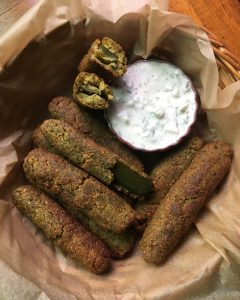 These are my favorite, not only because they're vegan and gluten-free, but because they're tasty, fried comfort food that doesn't make you feel like gross and sluggish!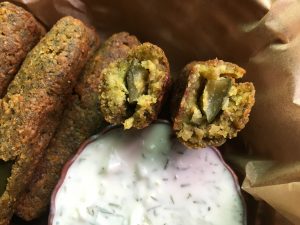 Anywho, let's talk about how ridiculously delicious these are. First of all, the pickles aren't ordinary pickles. They're spicy pickles! Not too spicy, but they definitely have an exciting kick to them. They're made with exotic flavors like turmeric, cumin and ginger. The falafel is phenomenal and only get's better when fried around the spicy pickles. I like to dip these babies in my Homemade Tzatziki Sauce or my Homemade Ranch! So yummy!!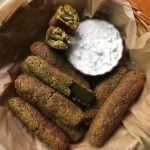 Fried Falafel Pickles (V/GF)
Spicy pickles fried in well seasoned falafel makes the ultimate comfort food!
Prep Time
1
hour
45
minutes
Total Time
2
hours
5
minutes
Servings
26
fried falafel pickles
Pickles Ingredients:
1 1/2 cucumbers, ends trimmed and cut into spears
1 tsp coriander seeds
1 tsp mustard seeds
1/2 tsp cumin seeds
2 cups apple cider vinegar
5 medium garlic cloves, peeled and lightly smashed
3 1/4-inch thick slices peeled fresh ginger
1/2 cup coconut sugar
2 tbsp kosher salt
1 tsp black peppercorns
1/2 tsp ground turmeric
1/4 tsp red pepper flakes
Pickle Instructions:
1. Add the coriander, mustard and cumin seeds to a medium saucepan. Toast the seeds over medium heat, swirling the pan around until the seeds are fragrant and slightly browned, about 2 minutes. Add the vinegar, garlic, ginger, coconut sugar, salt, peppercorns, turmeric, red pepper flakes and 1 cup water to the toasted spices. Bring to a boil.
2. Pack the cucumber spears in a quart jar. Pour the hot liquid over the cucumbers. Let cool to room temperature, and then cover and refrigerate for at least 2 days before tasting. The pickles will keep for up to two weeks in the refrigerator.
Falafel Ingredients:
2 cups dried chickpeas
5-6 cups water
1 tsp cumin seed
1 tsp coriander seed
3 cloves garlic, minced
1 small red onion, peeled and finely chopped
1 cup packed fresh cilantro leaves
1 cup packed fresh parsley leaves
Zest of 1 lemon
1/4 tsp cayenne
1 1/2 tsp salt
1/2 tsp ground black pepper
grape seed oil for frying
Falafel Instructions:
1. Place chickpeas in a large pot and cover with 5-6 cups of water. Bring to a boil and let boil for 2 minutes. Remove from heat. Cover with a lid and let the chickpeas sit in the water for at least an hour. Drain chickpeas from water and rinse with fresh water.
2. In the meantime, place the cumin and coriander seeds in a frying pan over medium-high heat. Cook until the seeds give off an aroma and just begin to brown, 3-4 minutes. Shake the pan often during this cooking time to assure the spices won't burn. Transfer the toasted spices to a spice grinder and process until finely ground. Set aside.
3. Place the drained chickpeas, ground spices, garlic, onion, cilantro, and parsley into a food processor and process until smooth (some chunks/texture is ok). You make have to do this in rounds depending on the size of your food processor.
4. Mix the lemon zest, cayenne, salt, and black pepper into the chickpea mixture and mix until fully combined.
5. Let the falafel mixture chill in the refrigerator for about 20 minutes.
6. Remove the pickles from the jar and lay them on some paper towels to soak up any excess liquid.
7. Bread the pickles with the falafel mixture by individually pressing the mixture around the pickles. The layer of falafel breading should be thick enough so it doesn't fall apart easily, but not too thick. For the best (in my opinion) balance of flavors, you want the thickness of the pickle and the falafel to be about the same. Also, do your best to make each pickle evenly breaded. That way the frying time will be the same for all of them.
8. You can either start the frying process once you've breaded all of the pickles, or you can refrigerate the breaded pickles until ready for use.
7. Pour oil in a large pot (enough to cover the falafel). Place a thermometer into the oil and heat over medium heat until the temperature reaches 350 degrees F.
8. When the oil is to temp, fry a test pickle. The oil should bubble up and sizzle all around it. The falafel pickle itself should stay together in one piece and not break apart at all. It should take 3-4 minutes to fry to a beautiful golden brown color. If your falafel pickles are not completely submerged in the oil, make sure you flip and cook the other side until it's nice and browned all over. Remove the cooked falafel pickles from the oil and place on a pile of paper towels or a wire rack to remove any excess oil. Fry the remaining falafel in batches, being careful to not overcrowd them.
9. Serve fried falafel pickles with your choice of dipping sauce and enjoy! Store leftovers covered in the refrigerator for up to 4 days. They will get drier the longer they sit. Reheat in oven or microwave before serving again.
If you like this recipe, you should check out my Portobello Gyros with my Homemade Tzatiki Sauce!
So, what do you think?! Drop a comment and rate the recipe to let me know! Also, tag @bunnysbite on your Instagram and Facebook photos to show me your work!