These rich, chewy, gooey, fudgy chocolate brownies are swirled with my homemade raspberry jam and are insanely delicious!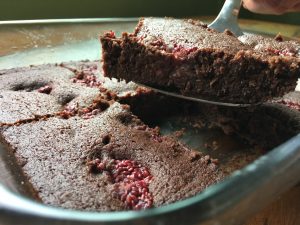 Adding raspberry jam really take these brownies to a whole new level! Each bite is fully of chocolaty goodness and a bright, fresh raspberry flavor.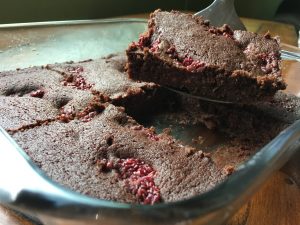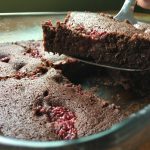 Raspberry Jam Brownies (V/GF)
Rich, chewy, gooey, fudgy chocolate brownies with a fresh, bright raspberry jam swirl.
Jam Ingredients:
• 2 cups fresh raspberries
• 2 tbsp pure maple syrup
• 2 tbsp lemon juice
• 2 tbsp chia seeds
Brownie Ingredients:
• 1/3 cup coconut oil, room temperature
• 1/2 cup coconut sugar
• 1/4 cup pure maple syrup
• 1/2 cup applesauce, unsweetened
• 1 tsp vanilla extract
• 1/3 cup unsweetened cocoa powder
• 1/2 cup gluten free all-purpose flour
• 1/4 tsp salt
• 1/4 tsp baking powder
Instructions:
1. Start by making the jam. Coat the fruit with maple syrup. Transfer fruit to a pot or saucepan and add the lemon juice. Heat over medium/low heat until fruit turns soft and starts bubbling, about 5 minutes.Reduce heat slightly and lightly smash fruit with a fork. Add chia seeds and stir until combined.Bring heat back to med/low and let bubble until jam thickens, about 5-10 minutes. Make sure to stir every once in awhile to avoid burning! Remove from heat and let cool for 10 minutes before transferring to jars. Set aside too cool while you make the brownies.
2. Preheat oven to 350 degrees F and grease an 8-inch square pan with coconut oil or spray with cooking spray.
3. In a large bowl, thoroughly mix together coconut oil and coconut sugar. Add maple syrup, applesauce, and vanilla extract. Whisk together until combined.
4. Gradually add cocoa powder, GF all-purpose flour, salt and baking powder to the wet ingredients while mixing. Mix until fully combined.
5. Pour batter into prepared pan. With a spoon, drops little dollops of jam randomly over the top of the batter. With a table knife, gently draw figure 8s through the jam and brownie batter to create a swirly pattern.
5. Bake for 25 to 30 minutes.
7. Let cool slightly, cut into squares and enjoy!!