Happy Friday lovelies!!  There's no better way to end a week and start a weekend than with these Chocolate Mint Pistachio Ice Cream Pops, if you ask me!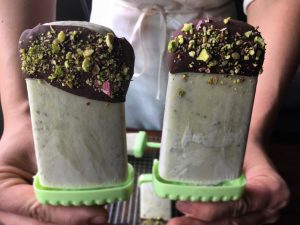 Made from Coconut Cream and Avocado, these babies are super duper creamy and vegan! They're flavored with Pistachios, Fresh Mint and Pure Maple Syrup. They're delicious as is, but they're even better when dipped in Dark Chocolate and Crushed Pistachios.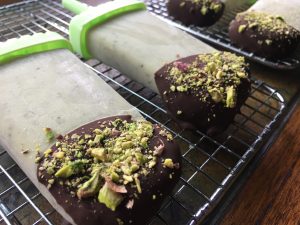 Such a yummy, refreshing treat!! There also ridiculously easy to make! Just blend, freeze and voilà! You got yourself some seriously tasty ice cream treats!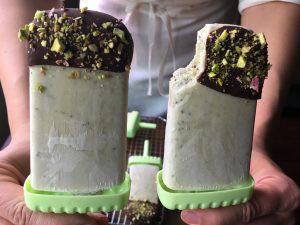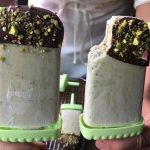 Chocolate Mint Pistachio Ice Cream Pops (V/GF)
Ingredients:
• 1 can coconut cream (full fat)
•1 ripe medium avocado
• 1/4 cup finely chopped fresh mint, finely chopped
• 1 tbsp ground pistachios *see notes*
• 2 tsp peppermint extract
• 4 tsp pure maple syrup
*optional* melted dark chocolate and crushed pistachios for dipping
Instructions:
1. Combined all of the ingredients in a food processor and process until smooth. Pour mixture into popsicle container and freeze over night. If you want to cover the popsicles with dark chocolate and pistachios, simply melt the chocolate and individually dip the popsicles and transfer to a wire rack. Then top the chocolate with crushed pistachios. Transfer the popsicles on the wire rack back to the freezer to chill until the chocolate firms up, about 10 minutes. Enjoy!
NOTES: For the ground pistachios use a food processor to grind the nuts into a butter-like texture.