You know something's tasty when you eat it before bed and wake up wanting it for breakfast 🙃 These Salted Caramel Cookie Bars are insanely delicious and quite addictive. Fortunately, they're completely vegan and gluten-free, so let's just say this is an acceptable breakfast. 😉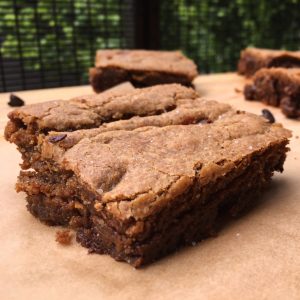 If you've had or made my chocolate chip cookies, then this recipe should excite you! It's a double batch of those cookies in bar form with a thick salted caramel middle.  The caramel is made of 5 simple ingredients: coconut cream, coconut sugar, tahini and sea salt. The tahini's nutty flavor goes so well in this caramel sauce. It also adds a nice, thick texture and requires less cooking time!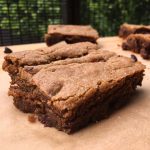 Salted Caramel Cookie Bars (V/GF)
These salted caramel cookie bars are dangerously delicious! They're soft, chocolaty and filled with a rich, tahini-based salted caramel.
Cookie Bar Ingredients:
• 1 cup coconut oil
• 2 cup coconut sugar
• 1/2 cup almond milk, unsweetened
• 2 tbsp vanilla extract
• 2 cup gluten free all purpose flour
• 2 cup almond flour
• 2 tsp baking soda
• 2 tsp baking powder
• 1 tsp salt
• 1 1/2 cup dark chocolate chips
Caramel Ingredients:
• 3/4 cup full fat coconut cream
• 3/4 cup coconut sugar
• 1/2 – 3/4 cup tahini
• 1 tsp vanilla
• 1/4 – 1/2 tsp sea salt
Instructions:
1. With an electric mixer, beat the coconut oil and coconut sugar together until smooth. Then add the almond milk and vanilla. Mix until combined.
2. In a separate bowl mix both flours, baking soda, baking powder and salt.
3. Combine the wet and dry ingredients, then gently fold in the chocolate chips.
4. Let mixture chill covered in the refrigerator for about 20 minutes.
5. While cookie dough is chilling, make the caramel.
6. Add the coconut cream and coconut sugar to a saucepan over medium-heat. Stir until sugar has dissolved. Then stir in the tahini and let the mixture simmer while stirring occasionally for 5-10 minutes. Taste the caramel and add another 1/4 cup of tahini if you want a thicker texture or a nuttier flavor. Then add the vanilla and sea salt. Taste and add another 1/4 tsp of salt if you want it saltier. Set caramel aside and let cool (It will thicken as it cools.
7. Preheat oven to 350 degrees F and grease and 13×13 glass baking dish. Set aside.
8. Remove cookie dough from the refrigerator and place half of the dough into the prepared pan. With your hands of or a rubber spatula, press the cookie dough down creating an even layer. Then, evenly spread the caramel sauce over the layer of cookie dough. Then, add the remaining cookie dough and create an even top layer.
9. Bake until slightly golden and firm, about 17-20 minutes.
11. Let cool for 10 minutes before serving and ENJOY!! Store leftovers in an airtight container.