Ending my weekend on a sweet note with my Tahini Butter Cream Frosting atop of my Chocolate Cupcakes!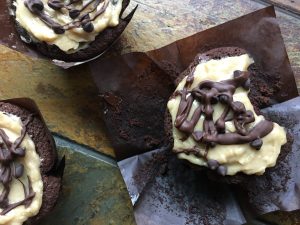 This frosting is unique in both flavor and texture. It's made with my Homemade Tahini and is naturally sweetened with pure maple syrup. The flavor is close to butterscotch: rich, carmely, sweet and buttery. The texture is creamy, soft and buttery smooth. It pairs perfectly with my chocolate cupcakes!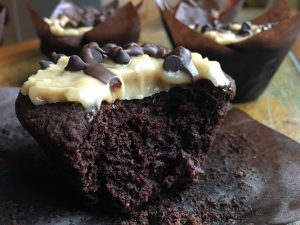 Cupcake Ingredients:
• 1 cup gluten-free all purpose flour
• 1 cup almond flour
• 1/2 cup cacao powder
• 2 tsp baking soda
• 1 tsp baking powder
• 1/2 tsp salt
• 1 cup coconut sugar
• 2/3 cup coconut oil
• 1/2 cup applesauce
• 2 tsp vanilla extract
• 3/4 cup warm coffee
Frosting Ingredients:
• 1 cup unsalted earth balance, at room temperature
• 1/2 cup tahini
• 1/2 cup maple syrup
• 1 tbsp vanilla extract
• 1/4 teaspoon ground cinnamon
Instructions:
1. Preheat oven to 350°F. Line cupcake tins with paper liners (enough for 12 cupcakes)
2. Make frosting by combing all of the ingredients in a food processor and process until smooth. Refrigerate until it's time to frost! (Longer chill time the better!)
3. In a medium bowl, combined both flours, cacao powder, baking soda, baking powder and salt.
4. In a separate large bowl, beat the coconut sugar and coconut oil together with an electric mixer until smooth. Add the applesauce and vanilla and beat until incorporated.
5. Add dry ingredients to wet ingredients and mix until fully combined. Then add the coffee and mix until combined.
6. Divide the batter evenly between the cupcake tins. Make sure you only fill the tin 3/4 to the top, leaving some room for the cakes to rise.
7. Bake for 18-25 minutes, or until a toothpick inserted comes out clean. Let cool completely before frosting. Enjoy!