Have you ever tried pesto in your vegan grilled cheese sandwiches?! More importantly, have you ever tried Sun-dried Tomato Pesto?! If not, I highly recommend you cancel your dinner plans and make this immediately!! It's such a tasty condiment that's loaded with both flavor and protein. When you put it in a gooey grilled cheese sandwich loaded with fresh tomato and basil, it becomes out-of-this-world! For such an easy meal to put together, the results are absolutely gourmet! Who woulda' thought grilled cheese could be so fancy?!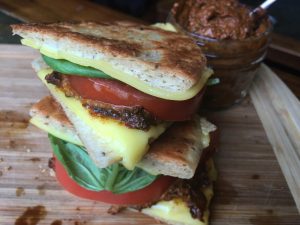 While the pine nuts in this pesto have protein, I like to add even more using hemp seeds! It is optional in this recipe but I must say, adding it gives the pesto a huge upgrade! Not only does it add extra nutritional value, it also enhances the texture!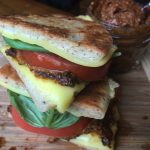 Sun-dried Tomato Pesto (V/GF)
Step up your pesto game with this Sun-dried Tomato Pesto! It adds so much flavor and texture to this already delicious spread.
Ingredients
sun-dried tomatoes

(Dry-packed NOT Oil-packed!)

3

garlic cloves

peeled and minced

1

cup (tightly packed)

fresh basil

1/4

cup

pine nuts

1/3

cup

olive oil

juice from half a lemon

pinch red pepper flakes

(or more if you like it spicy)

1

tbsp

hemp seeds

*optional

salt and pepper to taste
Instructions
Let sun-dried tomatoes soak in boil water until soft and tender, about 10 minutes.

Transfer sun-dried tomatoes to a food processor or blender with the remaining ingredients and blend until smooth.

Recipe Notes
Store leftovers in an airtight container in the refrigerator.
If you end up making something delicious with this pesto, I want to see! Tag @bunnysbite on Instagram and Facebook! (:
And if you're still hungry, check out my Tempeh, Basil & Watermelon Sandwich, Pesto Biscuits and my Kale Pesto!