Have leftover mashed potatoes? Make a cake!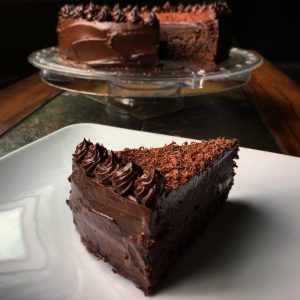 Yes, you heard me right. This decadent dessert is made with mashed potatoes and avocado! So basically it's a salad for dessert, right? 😉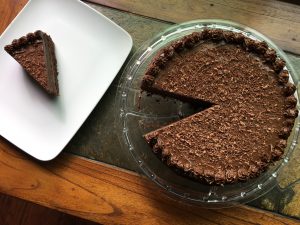 The potatoes give the cake a fudgy, moist texture. The avocados make the frosting super creamy. Together, they make a chocolatey, rich dessert that is totally guilt free. So go ahead, have your cake and eat it too!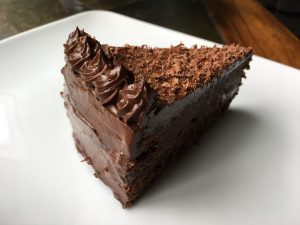 Chocolate Potato Cake with Chocolate Avocado Frosting
You wouldn't believe that this cake is made out of mashed potatoes and avocado! It's sweet, fudgy and sooo chocolaty.
Ingredients:
• 1 cup coconut oil, room temperature
• 2 cups coconut sugar
• 1/2 cup apple sauce, unsweetened
• 1 cup cold mashed potatoes (without added vegan milk/butter)
• 1 tbsp vanilla
• 1 cup gluten free all purpose flour
• 1 cup almond flour
• 1/2 cup cacao powder, unsweetened
• 2 tsp instant espresso coffee
• 1 tsp baking soda
• 1 cup almond milk
Frosting:
• 2 ripe medium avocados
• 1/2 cup cacao powder, unsweetened
• 1/2 cup pure maple syrup
• 1 tsp vanilla extract
1. Preheat oven to 350 degrees F.
2. Start by making the frosting. Simply process all of the frosting ingredients together in a food processor until smooth. Store in refrigerator until ready for use.
3. In a large bowl, beat coconut oil and coconut sugar until light and fluffy. Add applesauce, potatoes and vanilla. Beat together until smooth.
4. Combine both of the flours, cacao, espresso and baking soda together in a separate bowl. Gradually add the flour mixture to the creamed mixture alternately with the nondairy milk, mix well after each addition.
5. Pour into two greased and 9 in" springform caking pan. Bake for 25-30 minutes or until a toothpick inserted near the center comes out clean. Cool for 10 minutes before removing from pans to wire racks to cool completely.
6. Once cakes have cool, frost the top of the first cake and the layer it with the second cake. Frost the whole cake, slice and serve! Enjoy ☺️ Store leftovers in an airtight container at room temperature for 3-5 days.