This Herby Potato Crust will make you rethink pizza crust completely!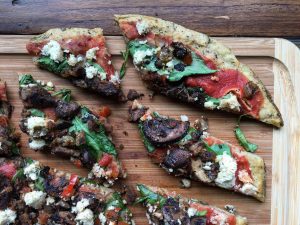 With just a few ingredients and a handful of herbs, this crust makes a sturdy, flavorful vegan and gluten-free base for any pizza.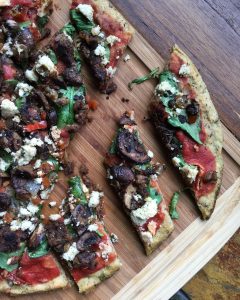 It's perfectly crisp on the outside and chewy on the inside.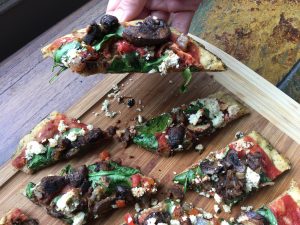 The pizza is topped with Fresh Marinara, Spinach, Mushrooms, Onions, Peppers, my Homemade Lentil Sausage and my Homemade Almond Pepper Jack Cheese.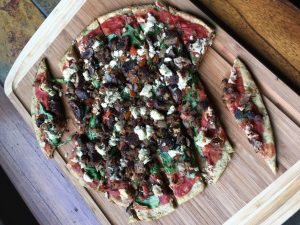 There's no doubt that one slice of this will satisfy your pizza cravings.
Herby Potato Pizza Crust
This mouthwatering pizza crust is perfectly crisp on the outside and chewy on the inside.
Total Time
1
hour
5
minutes
Ingredients:
• 2 cups mashed potatoes
• 1 flax-egg (1 tbsp ground flaxseed meal + 3 tbsp water mixed and set for 10 minutes)
• 3 tbsp gluten free all purpose flour
• 3 tbsp almond flour
• 1/2 tsp garlic powder
• 1/2 tsp onion powder
• 1/2 tsp dried thyme
• 1/2 tsp dried sage
• 1/2 tsp dried basil
• 1/4 tsp smoked paprika
Instructions:
1. Preheat oven to 350 degrees F.
2. In a large bowl, mix together the mashed potatoes with the flax-egg. Then add the flour and stir until it's all well mixed. Add the remaining ingredients and mix well.
3. Form dough into a large ball and place on a large piece of parchment paper and then top it with another piece of parchment paper. Flatten dough in between the papers and then continue to roll the dough out in between the papers with a rolling pin.
4. Oil a cast iron skillet or a 14″ round pizza pan and then transfer the rolled out dough to the pan.
5. Bake for 32-40 minutes.
6. Remove from oven, add pizza sauce and toppings and bake for another 5-10 minutes.
7. Slice and enjoy!