Tzatziki is my absolute favorite way to use up some cucumber! It's a simple, flavorful combination of garlic, lemon and dill.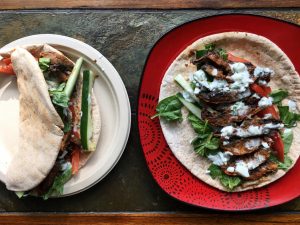 The cucumber chunks add a refreshing crunch to this creamy sauce.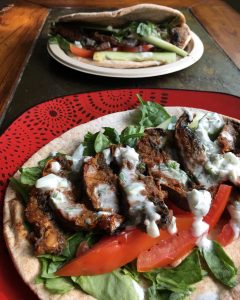 The meaty, savory portobello slices make the perfect vegan 'gyro meat'.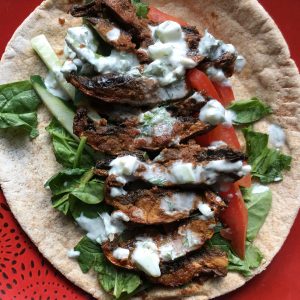 Overall, this is an insanely delicious and satisfying vegan meal that you don't want to miss out on!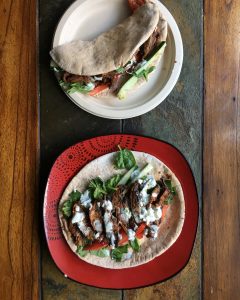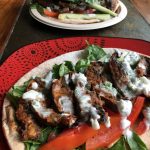 Portobello Gyros with Homemade Tzatziki Sauce (V/GF)
Meaty, savory portobello slices stuffed in a warm pita and topped with juicy tomatoes, crisp cucumbers and the best homemade tzatziki sauce. It's a must try!
Gyro 'Meat' Ingredients:
• 3 portobello mushrooms, sliced
• 1/4 cup liquid smoke
• 1/4 cup maple syrup
• 2 tbsp ketchup or tomato paste
• 1 tbsp tahini
• 1 tbsp nutritional yeast
• 1/4 white onion, finely grated
• 1 garlic clove, finely grated
• 1 tsp onion powder
•1 tsp garlic powder
• 1/2 tsp smoked paprika
• 1/4 tsp chili powder
• Salt and pepper to taste
Tzatziki Ingredients:
• 3/4 cup coconut milk
• 1/4 cup lemon juice
• 1/2 cup cucumber (skin and seeds removed), finely chopped
• 3 garlic cloves, finely minced
• 2 tsp fresh dill, finely chopped
• 1 tsp sea salt
Instructions:
1. Start by making the tzatziki. Simply combine the ingredients in a bowl and whisk together. Let set in the refrigerator until ready for use. Chilling in the refrigerator for a little while allows the flavors to marry and the texture to thicken.
2. Preheat oven to 400 degrees and line a baking sheet with aluminum foil. Place the mushroom slices on the pan making sure none of them are overlapping.
3. In a bowl, whisk together the remaining ingredients. Pour the mixture oven the portobello slices. Brush the sauce over the mushrooms to make sure it's evenly distributed.
4. Bake mushrooms for 10 minutes on each side.
5. Assemble gyro with pita bread, lettuce, cucumber, tomatoes and tzatziki sauce! Enjoy!
Now, let me know what ya think! Drop a comment, rate the recipe and tag @bunnysbite on your Instagram and Facebook photos!