If you take a look in my fridge at any given time, there's a 95% chance this Mexican Quinoa Salad is in there. If it's not, it's because I've eaten it all and I need to make more!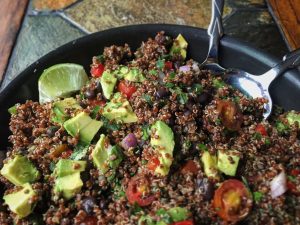 I love having this salad on hand. It's just as delicious, if not more, leftover as it is fresh. It's a satisfying meal and a delicious side dish.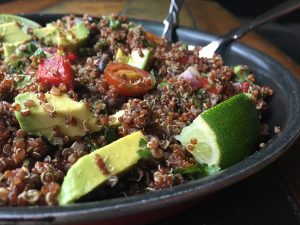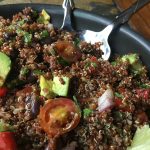 Mexican Quinoa Salad
A fun spin on the average salad, this mexican quinoa is warm, earthy, nutty, spicy and filled with goodies like avocado, black beans, tomatoes and cilantro! It comes together in minutes and is packed with protein, fiber and healthy fats.
Ingredients: 
• 1 cup red quinoa
• 2 cups vegetable broth
• 1/4 tsp cumin
• 1/4 tsp smoked paprika
• 1/4 tsp chili powder
• 1/4 tsp garlic powder
• Juice from 1 lime
• 1 can black beans, rinsed and drained
• 1/4 cup red onion,finely diced
• 1/4 cup tomatoes, chopped
• 1/4 cup jalapeños, finely diced (about 1 medium jalapeño)
• 1/4 cup red bell pepper, finely diced
• 1/4 – 1/2 cup fresh cilantro, finely chopped
• 1 avocado, chopped
Instructions:
1. Thorough rinse quinoa and then add to a pot along with the vegetable broth. Heat over medium-high heat and bring to a boil. Then, reduce heat to medium and cover. Let quinoa cook until liquid is absorbed and quinoa is tender, about 20 minutes.
2. Remove from heat and add the cumin, smoked paprika, chili powder and garlic powder. Stir until fully combined. Add the remaining ingredients and stir to combined.
3. Enjoy! Store leftovers in an airtight container.
Want more deliciousness? Check out this, this, this and this!
Don't forget to let me know what you think! Drop a comment, rate the recipe and join me on Instagram and Facebook!