I actually never tried elotes until now, but I've always seen it on social media pages, blogs and just about everywhere else. So, I decided to veganize the classic, ever-so loved recipe and guess what!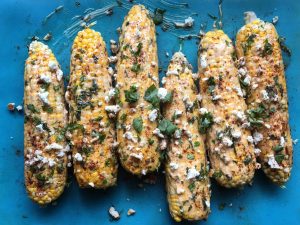 I'm now obsessed with this deliciousness!!!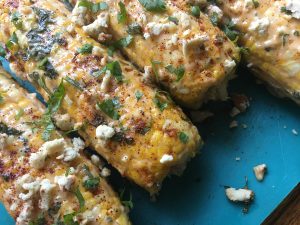 These lip smacking cobs are slathered in Chipotle and Lime infused Vegan Mayo and are topped with fresh Cilantro and my Homemade Almond-based Pepper jack Cheese.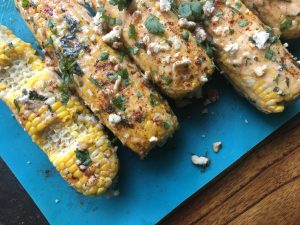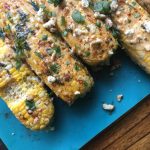 Mexican-style Corn (Elotes)
These lip smacking cobs are slathered in chipotle and lime infused vegan mayo and are topped with fresh cilantro and my homemade almond-based Pepper jack Cheese. Perfect summertime meal!
Ingredients
6

ears of

yellow corn

shucked and boiled

1/2

cup

vegan mayo

I use Follow Your Heart 's Brand

2

tbsp

fresh cilantro + more for garnishing

finely chopped

1

garlic clove

peeled and minced

1

pinch

cayenne pepper

1

cup

almond pepper jack cheese

crumbled (recipe below)
Ingredients:
6 ears yellow corn, shucked and boiled
1/2 cup vegenaise ( I use @followyourheat 's Brand)
2 Tbsp finely chopped cilantro , plus more for garnish
1 small clove garlic minced
1 pinch cayenne pepper
1 cup finely crumbled Almond Pepper Jack Cheese (recipe below)
1/2 tsp ancho chili powder (or regular chili powder), plus more for toppings
Lime wedges , for serving (optional)
Instructions:
1. In a large bowl whisk stir together vegan mayonnaise, cilantro, garlic, cayenne pepper.
2. Brush each cob with a nice layer of the mayo mixture and then sprinkle the cobs with the almond pepper jack, extra chili powder and fresh cilantro.
4. Serve and enjoy!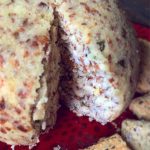 Almond Pepper Jack Cheese (V/GF)
This almond-based pepper jack cheese has the perfect heat and flavor. The texture can be both creamy and firm, depending on how long you chose to cook it. It's delicious crumbled on top of salads, pastas, pizzas, ect.
Total Time
1
hour
15
minutes
Ingredients:
1 1/4 cup raw blanched almonds
2 1/2 tbsp lemon juice
3 tbsp olive oil
1 tbsp garlic powder
1 1/4 tsp sea salt
2/3 cup water
2 medium jalapeños, roasted
2 habanero peppers, roasted
Instructions:
1. Let almonds soak in water for 6 hours.
2. Once almonds are done soaking, start roasting peppers. Slice peppers in half, remove seeds & stems and roast in the oven at 425 degrees F for 15-20 minutes, until charred.
3. While peppers are roasting, drain the almonds and transfer to a food processor or blender.
4. Blend almonds together with lemon juice, olive oil, garlic, salt and water together until smooth. You'll have to stop the process to scrape down the sides of the processor/blender a few times.
5. Once peppers are roasted and cooled, add them to the almond mixture. Pulse a few times to mix peppers in.
6. Place cheesecloth loosely over a large bowl.
7. Transfer almond mixture to the cheesecloth allowing the liquid to drain through. Wrap the cloth around the cheese and squeeze cheese to remove any excess moisture.
8. While squeezing out any moisture, form cheese into a ball shape.
9. Keep cheese wrapped in cloth and dump the bowl of liquid.
10. Refrigerate cheese in cloth for at least a few hours (or overnight) to let the flavors marry.
11. Preheat oven to 350 degrees F.
12. Remove cloth from cheese and transfer cheese to lightly oiled baking sheet.
13. Bake for 30-40 minutes. The longer the cooks the firmer it gets. You can cook it less for a creamier cheese or you can cook it longer for a firmer more parmesan like cheese.
14. Cool before serving and enjoy! This cheese works great as a crumble for salads, pastas, ect.
Need more ideas? I got you covered! Try my almond pepper jack cheese on some pizza, flatbread or throw it in some biscuits!