Who doesn't love biting into a giant, juicy, flavorful veggie burger?! This Quinoa Beet Burger is so satisfying!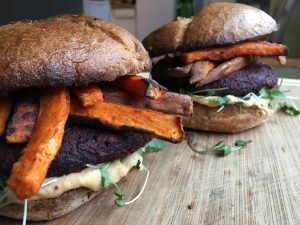 Every bite is filled with exciting flavors, juicy, tender textures and a bunch of protein, fiber and other valuable nutrients all while being completely vegan and gluten-free!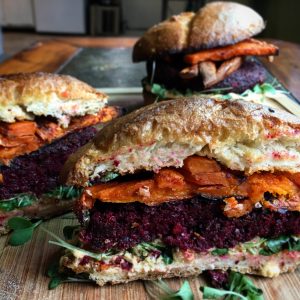 Veggie burgers are one of my favorite things to make! It's so fun and easy to switch up the flavor profiles. This burger has a delicious balance of sweet, spicy and earthy flavors.
I topped the patty with Homemade Sweet Potato Fries, Sprouts and my Hummus!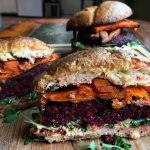 Quinoa Beet Burger (V/GF)
This veggie burger is thick, juicy, tender and full of flavor!
Total Time
1
hour
35
minutes
Ingredients:
2 cups beets, cubed
1 cup red quinoa, cooked
1 flax-egg (1 tbsp ground flaxseeds + 3 tbsp water mixed together and set for 10 minutes)
1/2 cup cilantro, tightly packed
1/2 cup gluten free old fashioned rolled oats
3 tbsp nut butter (I use almond butter)
1 tbsp red wine vinegar
1 tbsp hot sauce
juice from 1 lime
1 tsp garlic powder
1 tsp onion powder
1/2 tsp salt
1/4 tsp black pepper
Instructions:
1. Preheat oven to 400 degrees F.
2. Lightly brush cubed beets with olive oil. Let bake until tender, about 30 minutes.
3. While the beets are baking, cook the quinoa. Bring 1/4 cup of quinoa and 1/2 cup of water to a boil over medium high heat. Then, reduce the heat to medium and cover. Let simmer until water is absorbed and quinoa is tender, about 20 minutes. Gently fluff the cooled quinoa with a fork and set aside to cool.
4. Next, add the flax-egg, cilantro, oats, nut butter, red wine vinegar, hot sauce, lime juice, garlic powder, onion powder, salt and pepper into a food processor.
5. Once beets are cooked through and cool enough to handle, add them to the food processor as well as the quinoa. Process everything together until smooth. Some texture is ok!
6. Let mixture cool in the refrigerator for 20 minutes. This makes it a lot easier to form the patties!
7. From mixture into 4 patties and place on a baking sheet lined with parchment paper.
8. Bake until firm, about 40 minutes. Flip halfway through.
9. Assemble burger and enjoy!
Need more ideas? Check out these Lentil Sloppy Joes, French Onion Dip and Baked Matcha Doughnuts for dessert! (:
I love to hear your feedback to make sure you drop a comment, rate the recipe and tag @bunnysbite on Instagram and Facebook!