Alright you guys, this is a recipe I'm very excited about sharing! I call them Cherry Pop Tarts, but you could also call them hand pies or sweet, delicious cherry pastries.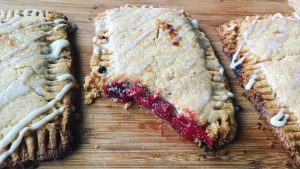 They're vegan, gluten-free and homemade so you know they're a lot healthier than the store bought pop-tarts or pastries!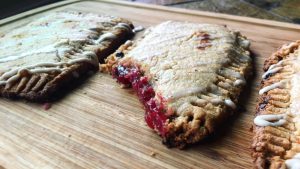 Not to mention, they're WAY tastier too!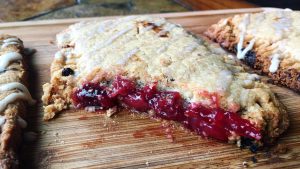 The almond flour is key in this recipe. The almond flavor really comes out when paired with the cherry filling and it's absolutely scrumptious! The glaze is optional, but highly recommend. It's a simple combination of coconut cream and maple syrup. It's sweet, light and creamy.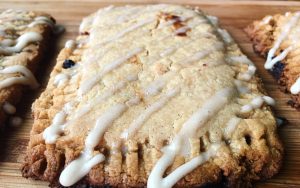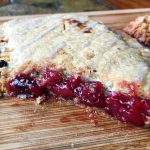 Cherry Pop Tarts (V/GF)
It's true, your favorite childhood breakfast can be made healthy!
Total Time
4
hours
25
minutes
Servings
3
Large pop tarts
Pastry Ingredients:
• 1 1/4 cups + 2 tbsp gluten free all-purpose flour (plus more for rolling dough)
• 1 1/4 cups + 2 tbsp almond flour
• 1/2 teaspoon of salt
• 1 tsp of coconut sugar
• 1 cup coconut oil, chilled and solid
• 4 tbsp of ice water
Cherry Filling Ingredients:
• 2 1/2 cups chopped fresh cherries, pits and stems removed
• 1/4 cup pure maple syrup
• 2 tbsp lemon juice
• 2 tbsp water
• 1 tsp vanilla
• 2 tbsp corn starch mixed with 2 tbsp water
Glaze Ingredients:
• 2/3 cup full fat coconut cream, chilled over night
• 2/3 cup pure maple syrup
• 1 tsp pure vanilla extract
• Pinch of salt
Instructions:
1. In a food processor, combined the both of the flours, salt and coconut sugar. Pulse until mixed. Chip up the chilled coconut oil and add it to the processor. Pulse until it becomes crumbly (the size of peas). Next, add the water, and process until the dough forms into a ball.
2. Split the dough into two balls, wrap in plastic wrap and refrigerate for 30 minutes to an hour.
3. In the meantime, make the cherry filling.
4. In a medium sauce pan, add cherries, maple syrup, lemon juice and water. Bring to a boil.
5. Once it boils, add vanilla and corn starch mixture. Reduce heat and let cook until mixture thickens, about 3 minutes.
6. Remove from heat and set aside to cool and thicken more.
7. Remove the balls of dough from the refrigerator. Roll out the first ball into a rectangle on a lightly-floured surface until it's about a 1/4-inch thick. You may need to add more flour to the surface as you go. You can also run flour on the rolling pin if the dough is sticky. Also, add flour the the bottoms of your hands helps handling and rolling the dough.
8. Cut the rolled out rectangular dough into 3 evenly shaped rectangles using a knife or a pizza cutter.
9. Repeat the last two steps with the second ball of dough.
10. Line a baking sheet with foil and preheat oven to 375 degrees F.
11. Place 3 rectangle pieces of dough down on the baking sheet, about an inch apart.
12. Spread the cherry filling in the center of each rectangle (1-2 tbsp worth).
13. Top each rectangle with a second sheet of dough and seal the edges by gently pressing down on the dough with a fork. Prick each pop tart with a fork.
14. Freeze the tarts for several hours. (I usually make these before bed and freeze them over night and then bake them in the morning 😊)
15. Bake them for about about 25-30 minutes.
16. While they're baking, make the glaze by adding the glaze ingredients together in a bowl and beating with an electric mixer for 5 minutes. Set aside until ready for use.
17. Once the tarts are done baking, allow them to cool slightly before glazing.
18. Once tarts are slightly cooled, glaze the tarts by lightly brushing the tops of each one. Enjoy!!!
Like what you see? You might also like my Double Layer Raspberry Coconut Cake, Chocolate Mint Pistachio Ice Cream Pops and my Lemon Meringue Cupcakes!
Don't forget to let me know what you think! Tag @bunnysbite on your Instagram and Facebook photos! You can also drop a comment and rate the recipe here (: