It's official, pie is my new favorite thing to make! It's so fun and soooo rewarding!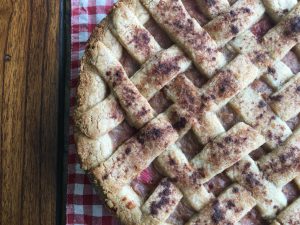 After getting my vegan and gluten-free crust recipe down, I decided it was time to take it to the next step with this Rhubarb Pie with a lattice crust!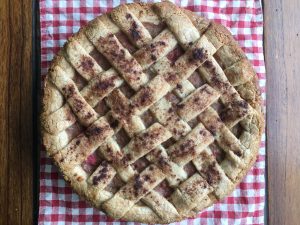 Rhubarb pie was how I was first introduced to the beautiful vegetable.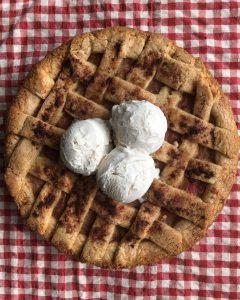 My mom would always make a strawberry rhubarb pie with fresh rhubarb from her garden.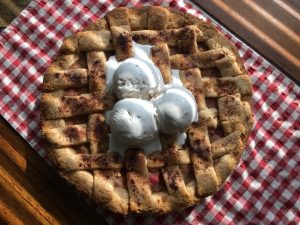 Luckily I picked up some of her skill!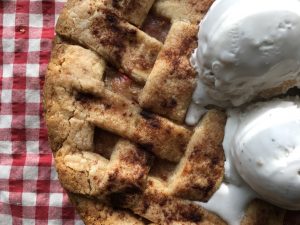 And, as always, pie is best à la mode.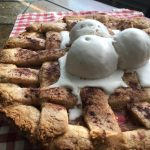 Rhubarb Pie (V/GF)
The BEST and EASIEST Rhubarb Pie and it's vegan and gluten-free too! The crust only takes 5 ingredients to make and the pie filling only takes another 5!
Crust Ingredients:
• 1 1/2 cups + 2 tbsp gluten free all-purpose flour (plus more for rolling dough)
• 1 1/2 cups + 2 tbsp almond flour
• 1/2 teaspoon of salt
• 1 tsp of coconut sugar
• 1 cup coconut oil, chilled and solid
• 4 tbsp of ice water
Rhubarb Filling Ingredients:
• 3 3/4 cups fresh rhubarb, cubed
• 6 tbsp pure maple syrup
• 3 tbsp lemon juice
• 3 tbsp water
• 1 1/2 tsp vanilla
• 3 tbsp corn starch mixed with 3 tbsp water
Instructions:
1. In a food processor, combined the both of the flours, salt and coconut sugar. Pulse until mixed. Chop up the chilled coconut oil and add it to the processor. Pulse until it becomes crumbly (the size of peas). Next, add the water, and process until the dough forms into a ball.
2. Split the dough into two balls, wrap in plastic wrap and refrigerate for 30 minutes to an hour. In the meantime, make the rhubarb filling.
3. In a medium sauce pan, add rhubarb, maple syrup, lemon juice and water. Bring to a boil.
4. Once it boils, add vanilla and corn starch mixture. Reduce heat and let cook until mixture thickens, about 3 minutes.
5. Remove from heat and set aside to cool and thicken more.
6. Remove the balls of dough from the refrigerator. Roll out the first ball on a floured surface until it's about a 1/4-inch thick. I usually work the dough for a while with my hands and then finish up with a rolling pin. You may need to add more flour to the surface as you go. You can also run flour on the rolling pin if the dough is sticky. Also, adding flour on the bottom of your hands will help with handling and rolling the dough.
7. Repeat the last step with the second ball of dough.
8. Lightly grease your pie pan and then transfer the first piece of rolled out dough to the bottom of the pan. Cover with foil and put it in the freezer while you work on the lattice.
9. Place the other rolled out dough onto a piece of parchment paper and cut into even strips, 1/2-inch to 3/4-inch wide, depending on how thick you want your lattice strips. You can do this with a sharp knife or a pizza cutter. Feel free to use a ruler or a straight edge if some sort to make sure they're even!
10. Once you have your strips cut up, place the piece of parchment paper with the strips on it to the refrigerator to firm up for a little while, about 5-10 minutes. It just be firm enough to handle but not too firm, otherwise it'll snap in half.
11. Remove pie pan from freezer and pour the pie filling into it. Smooth it out with a spoon or a rubber spatula.
12. Lay out 4 to 7 parallel strips of the pie dough, depending on how thick your strips are, on top of the filling, with about 1/2-inch to 3/4-inch space between them. Fold back every other strip.
13. Place one long strip of dough perpendicular to the parallel strips as shown. Unfold the folded strips over the perpendicular strip.
14. Now take the parallel strips that are running underneath the perpendicular strip and fold them back over the perpendicular strip, as shown. Lay down a second perpendicular strip of dough next to the first strip, with some space between the strips. Unfold the folded parallel strips over the second strip.
15. Continue this process until the weave is complete over the top of the pie.
16. Then, trim the edges of the pie with a sharp knife and then seal the edges by simply pressing your thumb around the edges of the whole pie.
17. Freeze the pie for several hours. (I recommend making it before bed, freezing it over night and then bake it in the morning 😊)
18. Bake the pie in a preheated oven at 375 degrees F for until crust is slightly golden, about 60-80 minutes.
19. Let cool completely before serving. Enjoy! Store leftovers tightly wrapped at room temperature for up to a week.
Tips:
• When rolling out the dough, you can put down a piece of parchment paper, sprinkle it with flour and roll out the dough in there. This also makes it easier to transfer the dough to the pie pan. Just pick up the parchment palate, making sure the dough doesn't crack, and flip it over onto the pie pan. Smooth out any cracks with your fingers.
• To avoid burning the edges of the pie, line the edges with foil up until the last 15 minutes of baking.
• If you end up chilling your lattice stops too long and they aren't bending well for you, you may have to get creative and snap them in pieces to design the look of a lattice pie, it's not the same but it certainly gets the job done!
Like this recipe? Then you'll love my Cherry Pop-tarts and my Rhubarb Coconut Muffins!
Don't forget to let me know what you think! Drop a comment, rate the recipe and tag @bunnysbite on your Instagram and Facebook photos! (: