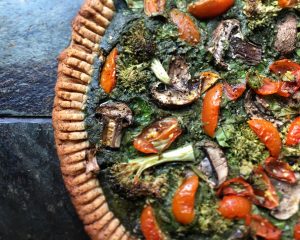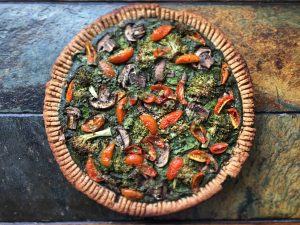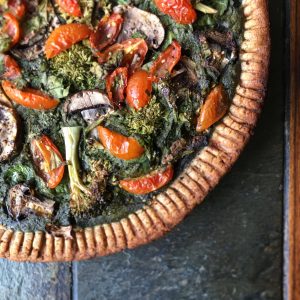 I'm always proud when I make a good recipe, but I'm exceptionally proud of this Super Green Quiche recipe. I expected it to be tasty and worthy of sharing, but it turned out way better than I ever hoped and I am so excited for someone else to make it and experience the deliciousness that it is!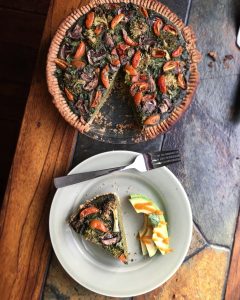 Before I get into what makes these quiche vibrantly green, let's talk about the crust. It's worth bragging about. Seriously, my crust game is on point. You would never-ever-ever-everrr know it's vegan and gluten-free by tasting it. It's super buttery, perfectly flaky, deliciously savory and tastier than any crust should be. Trust me, you'll want to eat up every last crumb of it!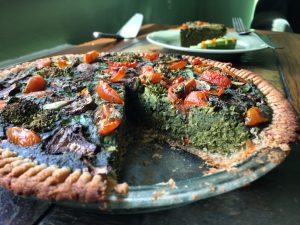 The quiche itself is surprisingly egg-y, wonderfully flavored and topped with with mushrooms, tomatoes, broccoli and spinach.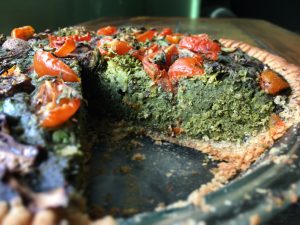 The green veggies isn't what gives this quiche it's beautiful color, though. Can you guess what does? SPIRULINA! It's such a magical ingredient, especially in this dish. Not only does it give it a fun color, but it also provides a serious boost of nutrition and the perfect flavor profile for this savory dish.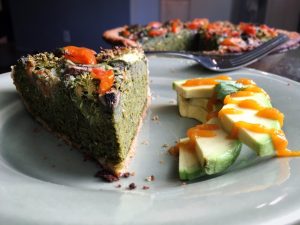 Avocado and hot sauce are always a must for my breakfasts, but I kept it on the side this time because the quiche really is worthy of it's own spotlight. Usually I smother any savory food that I eat with hot sauce almost immediately but I didn't even think of hot sauce until after I had a whole slice, which says a lot!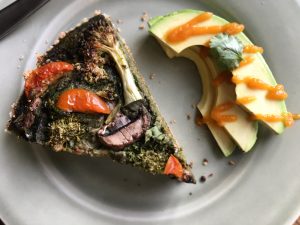 I even had to hold back from slicing up another piece after I ate my first one, but hey, I managed to wait a whole five hours before I had my second helping! Not bad, right?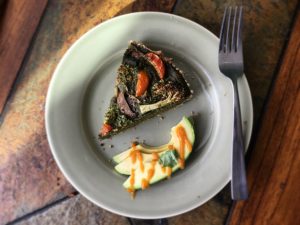 I am so excited to hear what you think! Drop a comment below, rate the recipe and be sure to find me on Instagram and Facebook!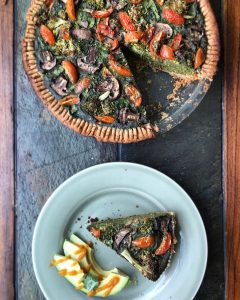 Enjoy everyone!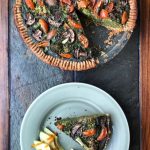 Super Green Quiche (V/GF)
Total Time
2
hours
45
minutes
Ingredients
Crust
3/4

cup + 1 tbsp

gluten free all-purpose flour

3/4

cup + 1 tbsp

almond flour

1/2

tsp

beet sugar

*may be substituted with cane sugar

1/4

tsp

salt

1/2

cup

vegan butter

(I use Earth Balance)

2

tbsp

ice water
'Egg'
1 1/2

cups

chickpea (garbanzo bean) flour

3

tbsp

nutritional yeast

3

tbsp

ground flax seed meal

1

tbsp

spirulina powder

1 1/2

tsp

baking powder

3/4

tsp

salt

3/4

tsp

smoked paprika

3/4

tsp

turmeric powder

1 1/2

cups

unsweetened nondairy milk

(I use almond milk)
Veggies
1/2

cup

cremini mushrooms

thinly sliced

1/2

cup

fresh broccoli florets

chopped

1/2

cup

cherry tomatoes

cut into fourths

1/2

cup

spinach

chopped
Instructions
In a food processor, combine both of the flours, sugar and salt. Pulse until mixed. Chop up the vegan butter and add it to the processor. Pulse until it becomes crumbly (the size of peas). Next, add the water and process until it's completely combined.

Remove dough from the food processor and form it into a ball. Wrap in plastic wrap and refrigerate for 30 minutes.


Massage the ball of dough with your hands until it becomes soft and manageable. Then, place the ball of dough into a lightly greased pie pan. Press the dough down and create an even bottom layer and press the dough up the sides of the pan. I usually take my time with this to get it perfectly even. I find this process to be much easier and faster than rolling the dough out and then transfer the dough to the pan.


Cover and pie crust and set in the freezer for 1 hour.


In the meantime, preheat your oven to 400 degrees F and prepare your veggies.


After an hour, remove the crust from the freezer and set aside while you make your quiche filling. Mix all of the 'egg' ingredients together until fully combined. You can either stir in the chopped veggies into the batter and then pour on top of the crust, or you can pour the 'egg' batter on top of the crust and then top it with the veggies. I like to top the batter with the veggies for presentation.


Cover the quiche with foil and bake for 25 minutes. After 25 minutes, remove the foil and bake for another 20 minutes.


Let the quiche cool for at least 20 minutes before serving. Although, this is best after an hour or so in the refrigerator.


Enjoy! Store leftovers in the refrigerator for up to 5-7 days.

Need more breakfast ideas? Check out my Cheddar Jalapeño Biscuit Breakfast Sandwich, 3-Ingredient Banana Pancakes and my Tofu Scramble!