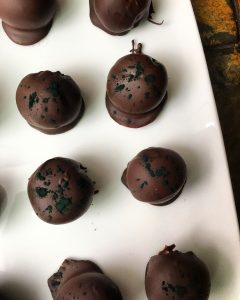 Chocolate Mint Spirulina Protein Truffles… you know when a food title is that long, it's gotta be good! Except, that's not the case with these truffles. These truffles are way beyond good. They're amazing! For real though, you'd be amazed to know how healthy these chocolaty treats are.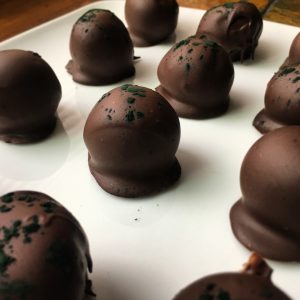 Made with under 10 ingredients, these babies have 3 grams of protein per truffle! That may not sound like a lot, but, if you're like me or any other normal person with a sweet tooth, you'll probably end up having at least 3 at a time, not just one. Who would only eat one truffle?! Anyway, a serving size of 3 will give you a whopping 9 grams of protein! That's not bad for a dessert!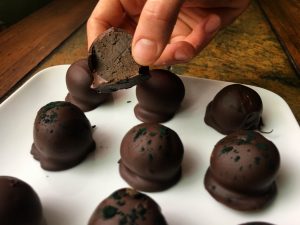 Where do these chocolate truffles get their protein you ask? Black beans and spirulina. Yup, you heard me right. These are mostly made up of black beans and have a touch of spirulina, which, on it's own, has a very earthy-bitter taste. Thanks to the chocolate though, you'd never know that the world's most nutrient-dense food is in here. Hiding superfoods in chocolate… sneaky, isn't it?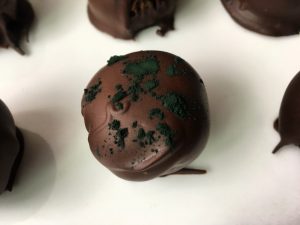 Not only do the black beans provide protein, but they also give these truffles a deliciously smooth mousse-like texture. It might just be my favorite part of these truffles; biting past the dark chocolate shell to discover an irresistibly soft and creamy chocolate center. Gets me excited just thinking about it!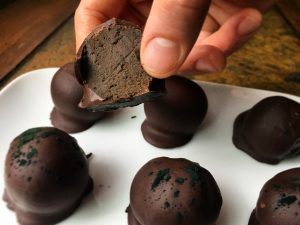 If you make these, rate the recipe, drop a comment below and find me on Instagram or Facebook to share your results with me!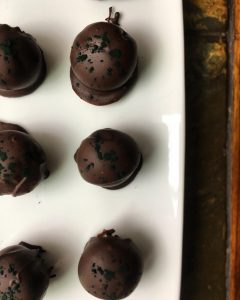 Enjoy!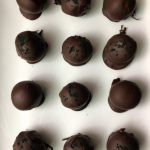 Chocolate Mint Spirulina Protein Truffles (V/GF)
Ingredients
1

15 oz can

black beans

drained and rinsed

2 1/2

tbsp

maple syrup

1 1/2

tbsp

coconut oil

1

tsp

vanilla extract

1/2

tsp

peppermint extract

5

tbsp

unsweetened cocoa powder

2

tbsp

chocolate protein powder

(I use the Vega brand)

1

tsp

spirulina powder

1

16 oz package

dark chocolate chips
Instructions
Place the black beans, maple syrup, coconut oil, vanilla and peppermint extract in a food processor and process until smooth (not all of the black bean skins will break down, that's okay!).

Using a spatula, scrape the mixture into a medium sized bowl. Add the cocoa powder, protein powder and spirulina. Mix with rubber spatula until fully combined.

Place mixture in the freezer until somewhat firm, about 20-30 minutes.


Remove from the freezer and roll the mixture into balls (1 tbsp worth). Place on a parchment paper lined baking sheet.


Cover and place back in the freezer to chill for 30 minutes.


Melt dark chocolate in the microwave or broiler style. Set aside to cool slightly.


Remove the truffles from the freezer after 30 minutes. One by one, use two spoons or forks to hold the truffle and dip into melted chocolate. Transfer the dipped truffles back to the prepared baking sheet.


Place back in the freezer for just a few minutes to firm up, or transfer to the refrigerator a little while longer to firm up.


Keep refrigerated and ENJOY!

Wonder what to make next? Try my Chocolate Mint Pistachio Ice Cream Pops, Mint Chocolate Brownies and my Chocolate Chip Protein Cookies!