Wanna know what my favorite thing to do with pineapple is?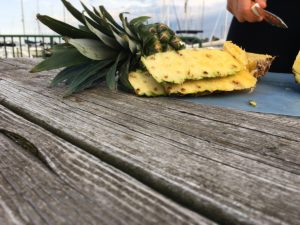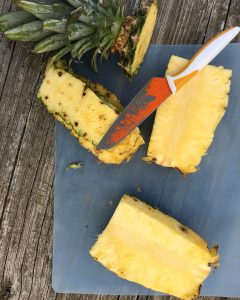 Chopping it in half, gutting out the insides and filling it with dinner! Using the skins of pineapple to serve food with is one of the best decisions I've ever made.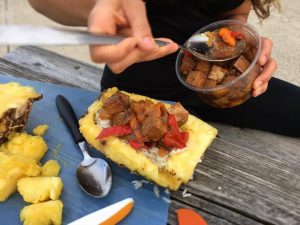 Especially when you leave a little wall of pineapple to munch on along with your meal.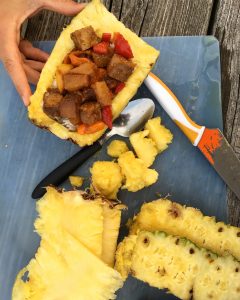 One of my favorite meals to serve in a pineapple boat is my Sweet and Sour Tofu!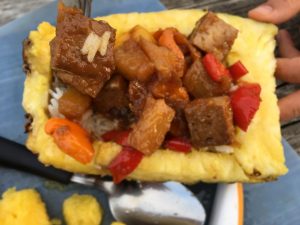 It's my favorite for many reasons. For starters, Sweet and Sour Tofu goes perfectly with the extra pineapple because there's pineapple already in the dish!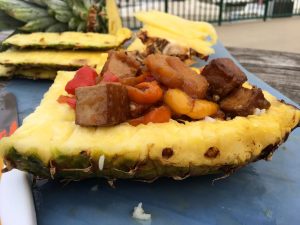 There's also cubed tofu and bell peppers cooked in a homemade sweet and sour sauce all on top of some basmati rice.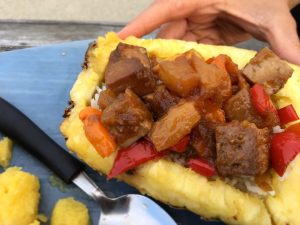 It's also my favorite because it all comes together in just 10 minutes! It also only takes 10 ingredients to make. Not too shabby!
Sweet and Sour Tofu Pineapple Boats (V/GF)
This deliciousness only takes 10 ingredient and 10 minutes to make!! If you want to be thrifty and nifty, use your leftover pineapple skins for serving!

Ingredients
1

tbsp

olive oil

3/4

cup

bell peppers

, chopped

1

6 oz package

tofu (I use Wild Wood's brand)

, chopped

4

tsp

cornstarch, mixed with 4 tsp water

1

cup

fresh pineapple

, chopped

3

tbsp

coconut sugar

3

tbsp

rice wine vinegar

1/4

cup

low-sodium vegetable broth

cooked rice

, for serving
Instructions
Heat oil in a large skillet over medium-high heat. Place peppers and tofu in the skillet and cook for 1 minute.

Stir in pineapple chunks, coconut sugar, rice wine vinegar and veggie broth. Bring to a simmer.

Let simmer until sauce begins to reduce.

Stir in cornstarch mixture and bring liquid to a simmer.

Let simmer, while stirring occasionally, and then remove from heat.

Serve warm over rice and enjoy!
Hungry for more? Check out my Watermelon Rind Curry, Sweet and Savory Grain Bowl and my Pineapple Basil Ice Cream Pops!
If you like what you see, let me know! Drop a comment, rate the recipe and find me on Instagram and Facebook!