I am convinced that even pineapple pizza haters would love this Sweet Chili BBQ Jalapeño Pineapple Pizza! You heard me right, I used pineapple and pizza in the same sentence.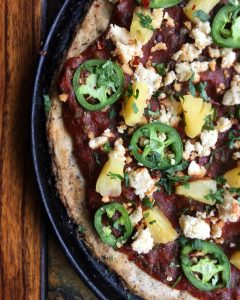 You either love pineapple on your pizza or you hate it. Personally, pineapple has always been my #1 favorite pizza topping! Ever since I was a kiddo, if I could only choose one topping, it'd be pineapple.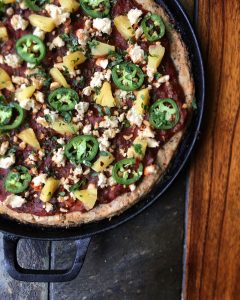 There's something about the random burst of sweetness in the midst of the savory and saltiness that I love so much!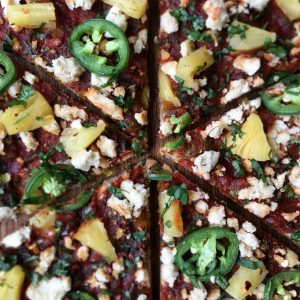 However, I've always despised Hawaiian pizza, then again, I've never had the taste for meat, especially ham! Yuck! Pineapple paired with fresh jalapeños is way more up my alley. Spicy, sweet and salty… it's the best of both all worlds!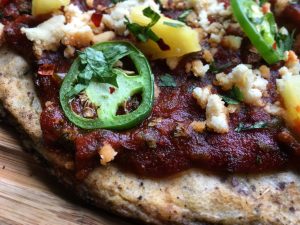 Other than the delicious pineapple and jalapeño combination, this pizza also features my Homemade Herby Potato Pizza Crust which is made out of leftover mashed potatoes, a touch of flour and a handful of herbs. It's crisp on the outside, tender and chewy on the inside and makes a great study base for this pizza.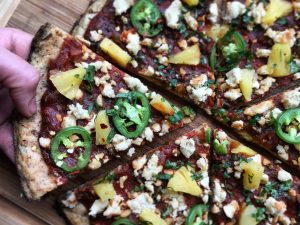 I also threw some of my Homemade Almond-Based Cheese on this pizza because every pizza needs, a cheesy, creamy element, if you ask me! This recipe is the only 'cheese' recipe you'll ever need! It only takes 6 ingredients, one of them being water, and is super easy to make! No weird, unnatural ingredients or complicated methods. Not to mention, it's absolutely delicious! Creamy, crumbly, a bit tangy and a little salty, just like feta but beta'!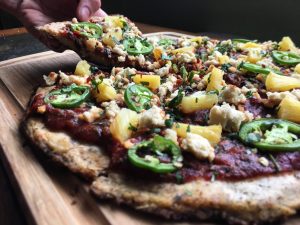 Now, let's talk about this sauce. I was originally going to use my Homemade BBQ Sauce as the sauce for this pizza on it's own until I ended up adding Sweet Thai Chili Sauce, Cilantro, Pickled Jalapeños and Pineapple Juice to the mix. Best decision ever! The sweet and tangy flavors of the sauce and toppings will have your taste buds thanking you!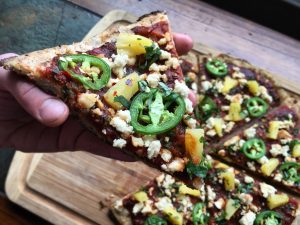 This pizza is the tastiest! Try it out and let me know what you think! Drop a comment below, rate the recipe, snap a photo and share with me on Instagram and Facebook!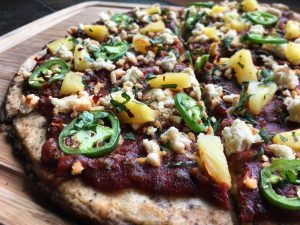 Enjoy!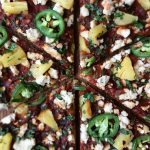 Sweet Chili BBQ Jalapeño Pineapple Pizza (V/GF)
There's a lot to love about this pizza! Homemade pizza crust made out of leftover mashed potatoes, homemade Sweet Chili BBQ sauce, homemade almond cheese and fresh pineapple and jalapenos...you're taste buds will never be happier than with this sweet, salty and spicy flavor combo!
Ingredients
*See notes for Crust recipe.*
Pizza Sauce
1/2

cup

BBQ sauce

(store bought or homemade. *see notes for my BBQ recipe)

1/4

cup

pickled jalapeños

finely chopped

1/4

cup

fresh cilantro

finely chopped

1/4

cup

sweet thai chili sauce

2

tbsp

pineapple juice

1

tsp

garlic powder

1/2

tsp

red pepper flakes

Juice from half a lime
Toppings
Jalapeños (stems and seeds removed)

sliced

Fresh pineapple chunks

Almond Cheese

*see notes for recipe
Instructions
To make the sauce, simply whisk the sauce ingredients together until combined.

Spread the sauce on your pizza crust and then top with the almond cheese, pineapple and jalapeños.

Bake until crust is golden brown. (Follow cooking instructions from my crust recipe (link above) or from your crust package.)

Garnish with optional cilantro and red pepper flakes. Enjoy!
Wonder what to make next? Try my Pineapple Coconut Oatmeal Cookies, Spirulina Pesto Mushroom Flatbread and my Poblano Peppers!