Sugar and spice and everything nice is what this  Spicy Chocolate Cake is made of!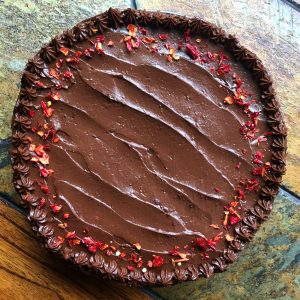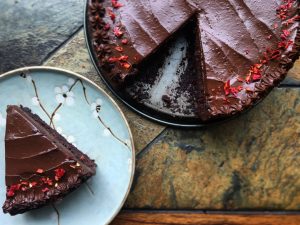 More specifically, it's infused with a touch of cayenne and cinnamon and then topped with a Chocolate Jalapeño Avocado Frosting.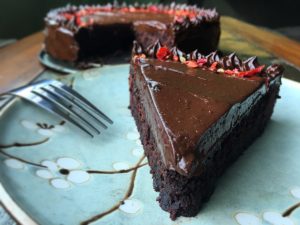 This cake may be starting to sound like a taco, but it's definitely a sweet, decadent dessert. The richness of the chocolate pairs perfectly with the kick of spice from the cayenne and jalapeño.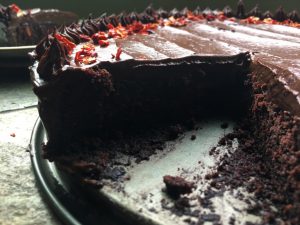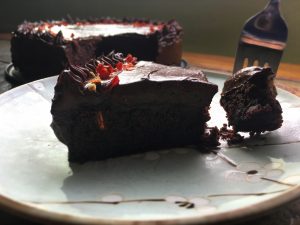 The cake itself is super scrumptious, I could eat it happily without frosting, which says a lot coming from a frosting lover! It's super chocolaty, moist, light, spongy and has a perfect touch of spice.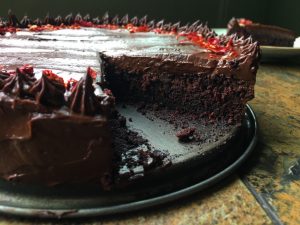 The frosting is also so delicious that I could eat that on it's own too! Chocolate avocado frosting has always been my favorite, but tossing a jalapeño in the mix makes it even more delicious!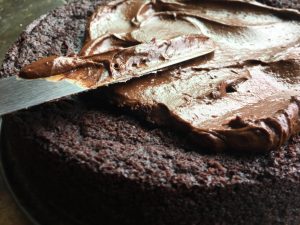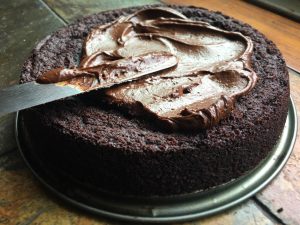 If you're need of a chocolate cake recipe and don't necessarily want any heat, then just skip the cayenne and jalapeño. If you're like me and love spicy chocolate desserts, then this recipe is perfect for you!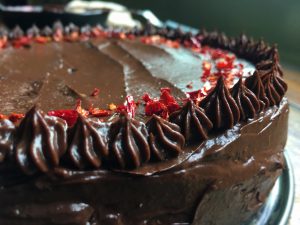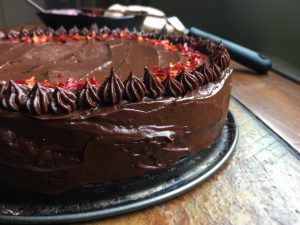 I can't wait to hear what you think! Make sure you rate the recipe, drop a comment below and find me on Instagram or Facebook so I can see your results!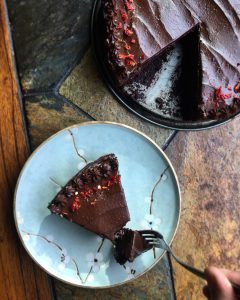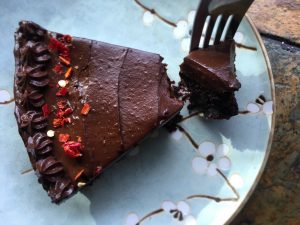 Enjoy!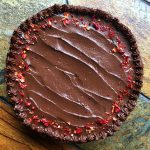 Spicy Chocolate Cake with Chocolate Jalapeño Avocado Frosting (V/GF)
Think you've had a good vegan and gluten-free chocolate cake? Think again. This Spicy Chocolate Cake (literally) takes the cake.
Ingredients
Frosting
2

ripe medium avocados

1

medium jalapeño (stem and seeds removed)

roughly chopped

1/2

cup

unsweetened cacao powder

1/2

cup

pure maple syrup

1

tsp

vanilla extract
Cake
1

cup

gluten free all-purpose flour

1

cup

beet sugar

1/2

cup

almond flour

1/3

cup

unsweetened cocoa powder

1

tsp

baking soda

3/4

tsp

fine sea salt

1

tsp

ground cinnamon

1/4 - 1/2

tsp

cayenne powder

(use 1/4 tsp if you're sensitive to spice. I use 1/2 tsp and think it's perfect!)

1

cup

unsweetened nondairy milk

(I use almond milk)

1/3

cup

coconut oil

(cooled down to room temperature)

1

tbsp

apple cider vinegar

1

tbsp

vanilla extract
Instructions
Preheat oven to 350 degrees F and lightly grease a 10" round cake pan.

Start by making the frosting. Simply process all of the frosting ingredients together in a food processor until smooth. Store in refrigerator until ready for use.

Now, make the cake. In a bowl, mix together dry ingredients. Set aside.


In a separate large bowl, whisk together all of the wet ingredients until smooth.


Gradually add dry ingredients to wet ingredients and mix together until combined. Don't over mix!


Pour batter into the prepared pan.


Bake until a toothpick inserted in the middle comes out clean, 25-30 minutes. Allow cake to cool completely before frosting. Enjoy! Store leftovers at room temperature for up to 5 days.

Want more chocolate? Check out my Chocolate Mint Spirulina Protein Truffles, Chocolate Crusted Pumpkin Pie and my Double Chocolate Matcha Cream Filled Cookie Sandwiches