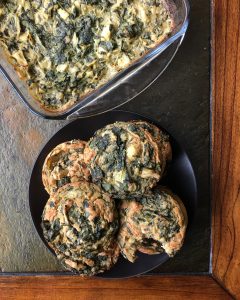 These Spinach Artichoke Stuffed Biscuits are better than they sound and look, if you can believe it!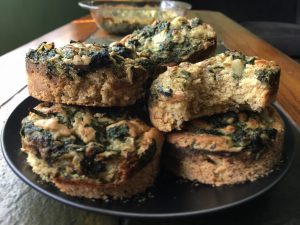 Ever since I made biscuits stuffed with pesto, I've become obsessed with the idea of throwing extra yumminess into my biscuit batter.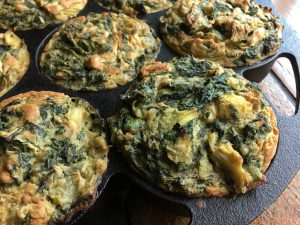 I've been making this spinach artichoke recipe for awhile now and I honestly can't get enough of it! I'm so glad I found another way to eat it up!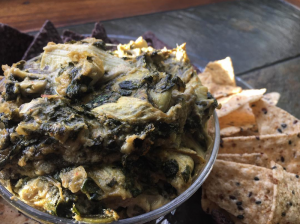 The biscuits are soft, fluffy, savory and flavorful. I like to heat them on there own nice and warm, but they're also a fantastic side for a salad or soup!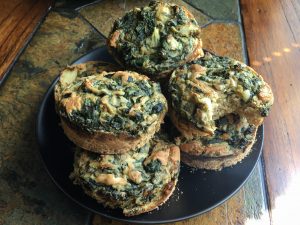 This recipe does make extra artichoke dip but, trust me, you'll want it! If not, just reduce the artichoke dip ingredients in half. (: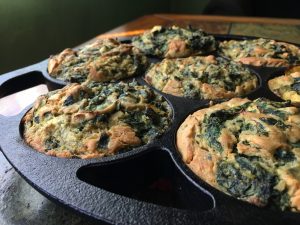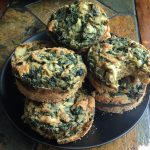 Spinach Artichoke Stuffed Biscuits
Ingredients
Spinach Artichoke Dip
1

tbsp

olive oil

1/3

cup

white onion

, diced

2

large garlic cloves

, peeled and minced

4

tightly packed cups

fresh baby spinach

, chopped

1

14 oz can

artichokes

, drained and chopped

1/2

cup

raw cashews

, soaked for at least 6 hours

1/2

tbsp

lemon juice

3/4

cp

unsweetened almond milk

1

tsp

garlic powder

1

tsp

onion powder

1/4

tsp

paprika

salt and pepper to taste
Biscuits
1 1/4

cup

gluten-free all purpose flour

1

cup

chickpea (garbanzo bean) flour

1 1/2

tsp

baking powder

1/2

tsp

baking soda

4

tbsp

coconut oil

, room tempature

1

cup

vegan buttermilk

*see notes

1

tbsp

nutritional yeast

1

tbsp

flax seeds

1

tsp

onion powder

1

tsp

pink himalayan salt

1

tsp

red pepper flakes
Instructions
Preheat oven to 400 degrees F and lightly oil a cast iron biscuit pan or a baking sheet with oil. Set aside.

Start by making the artichoke dip. In a large frying pan, heat oil over medium heat.

Add onion, garlic and a pinch of salt and sauté for 5 minutes, stirring so garlic doesn't burn.

Add the spinach and cook until wilted, about 3 minutes.

While spinach is cooking, prepare cashew cream by placing drained cashews, lemon juice, nondairy milk and a generous pinch of salt and pepper in a food processor or blender. Blend until completely smooth, scraping down the sides every so often. Season to taste with salt and pepper.

Turn off heat and add chopped artichokes, cashew mixture, onion powder, garlic powder and paprika to the pan. Stir to combine and season to taste with salt and pepper. Set aside.

To make the biscuits, add both flours, baking powder, baking soda, salt and coconut oil to food processor.

Pulse a few times until fully mixed (should be a little crumbly). Add the remaining ingredients to the food processor and pulse until combined.

With a spoon, scoop biscuit batter (3 spoonfuls worth) and place on the cast iron biscuit pan or baking sheet.

With spoon or fingers, form dough to a smooth round form. If you're using a cast iron pan, just smooth out the top of the biscuits and make sure they're nicely packed in the biscuit molds.

Top each biscuit with a spoonful or two of the artichoke dip. Swirl the artichoke dip with a spoon or knife to create a marbled look.

Bake for about 15-20 minutes (until golden brown on top).

Let cool slightly before serving and enjoy!

Bake of the remaining artichoke dip at 375 for 20-30 minutes or until golden on top.

Store leftover biscuits and dip both tightly wrapped in the refrigerator for up to 5-7 days.
Recipe Notes
Notes:
-To make vegan buttermilk, mix together 1 cup almond milk and 1 tbsp fresh lemon juice or apple cider vinegar. Let sit for 5-10 minutes before use.
If you liked this recipe, you might like my Chickpea Eggs Florentine, Spinach Banana Muffins and my Olive Feta Biscuits!
Also, don't be shy! Let me know what you think! Drop a comment, rate the recipe and be sure to find me on Instagram and Facebook!