Most burgers are topped with lettuce, tomato, onion and ketchup, but if you're more open minded than that, this drool-worthy Strawberry Basil Burger is for you!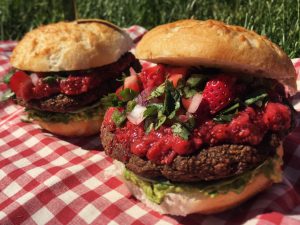 It's topped with my Homemade Strawberry Jalapeño Jam, Strawberry Salsa, fresh Basil and a thick, creamy layer of Avocado.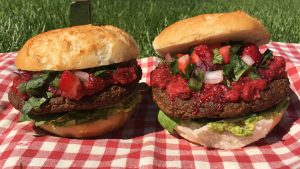 This veggie burger is packed with so much flavor, you'll want to savor every bite!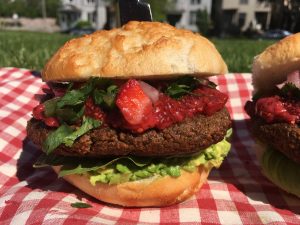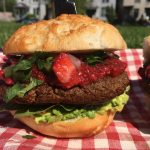 Strawberry Basil Burger (V/GF)
This burger is packed with so much flavor, you'll want to savor every bite!
Total Time
1
hour
10
minutes
Burger Ingredients:
• 1 can chickpeas, drained & rinsed
• 1 cup fresh strawberries, chopped & stems removed
• 1/2 cup almonds
• 1 cup fresh basil, tightly packed
• 1/2 cup gluten free old fashioned oats
• 3 tbsp fresh rosemary, finely chopped
• 2 tbsp pure maple syrup
• 1 tbsp balsamic vinegar
• 1/4 tsp smoked paprika
• 1/4 tsp ground coriander
• 1/4 tsp cayenne powder
• 1/4 tsp ground cloves
• 1/4 tsp ground cinnamon
• 1/8 tsp ground ginger
• Salt and pepper to taste
Burger Instructions:
1. Add all of the ingredients to a food processor & process until fully combined. You can either process it all the way smooth or leave in with some texture.
2. Allow mixture to chill in the refrigerator for at least 20 minutes. I like to chill it for half an hour to make it easier to form the patties.
3. Preheat oven to 400 degrees F & line a baking sheet with parchment paper.
4. Form the chilled mixture into 4 equal sized patties bake for 40 minutes, flip halfway through
6. Assemble burger & enjoy!
Jam Ingredients:
• 2 cups fresh strawberries, chopped into fourths and stems removed
• 2 tbsp pure maple syrup
• 2 tbsp lemon juice
• 2 tbsp chia seeds
• 1-2 tbsp fresh jalapeño, diced
Jam Instructions:
1. Place the strawberries & jalapeños in a pan and coat them with the maple syrup & lemon juice.
2. Heat over medium/low heat until fruit turns soft and starts bubbling, about 5 minutes.
3. Reduce heat slightly & lightly smash the strawberries with a fork.
4. Add chia seeds & stir until combined.
5. Bring heat back to med/low & let bubble until jam thickens, about 5-10 minutes. Make sure to stir every once in awhile to avoid burning!
6. Remove from heat & let cool for 10 minutes before transferring to jars. Enjoy!
Still hungry? Try my Creamy Potato Salad or my Baked Onion Rings!
Don't forget tag @bunnysbite on your Instagram and Facebook photos!