Other than warm, sunny weather, rhubarb is definitely one of my top favorite things about summer! Unfortunately, it's in season for only a few months. Three precious, sacred months…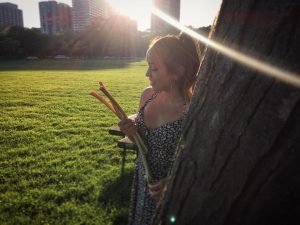 So, every year I make sure I take advantage of rhubarb's sweet and tangy flavors.
Now, don't get me wrong, I looove rhubarb in sweet desserts (like my Rhubarb Pie!), but a lot of sugar is needed to balance out rhubarb's natural tartness. So, when you want to enjoy rhubarb's taste and nutritional value without the sugar overload, throw it in a veggie burger!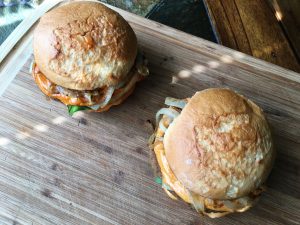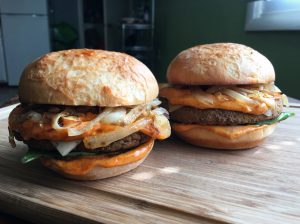 The rhubarb's tartness is balanced by the smokey and savory flavors of the herbs and spices in this veggie burger.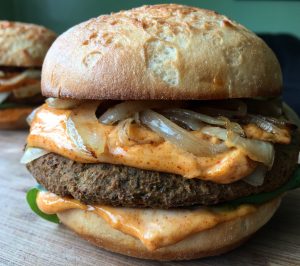 I like to top them with fresh basil, vegan chipotle mayo, vegan pepper jack cheese, and caramelized onions.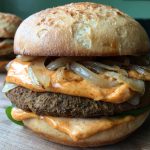 Roasted Smokey Rhubarb Burger (V/GF)
The rhubarb's tartness is balanced by the smokey and savory flavors of the herbs and spices in this veggie burger. Top it with warm veggies like sauteed mushroom and onions or go the classic route and top it with fresh, juicy tomatoes and crisp lettuce.
Total Time
1
hour
25
minutes
Ingredients:
• 1 can chickpeas, drained and rinsed
• 1 cup chopped fresh rhubarb, ends trimmed
• 1 cup fresh basil, tightly packed
• 1/2 cup gluten free old fashioned oats
• 1/4 cup almond butter
• 3 tbsp fresh rosemary, finely chopped
• 2 tbsp pure maple syrup
• 1 tbsp liquid smoke
• 1/2 tsp garlic powder
• 1/2 tsp onion powder
• 1/2 tsp smoked paprika
• 1/4 tsp ground cloves
• 1/4 tsp ground cinnamon
• Salt and pepper to taste
Instructions:
1. Preheat oven to 400 degrees F and line a baking sheet with parchment paper. Set aside.
2. Add the chopped rhubarb to a separate baking sheet and lightly brush with olive oil and then sprinkle the rhubarb with 1 tbsp of fresh rosemary. Let rhubarb roast until tender, about 15 minutes. Once tender, remove from oven and let cool completely.
3. Once the rhubarb has cooled, add it to a food processor with the remaining ingredients and process until fully combined. You can either process it all the way smooth or leave it with some texture.
4. Allow mixture to chill in the refrigerator for at least 20 minutes. I like to chill it for half an hour to make it easier to form the patties.
5. Form the chilled mixture into 4 equal sized patties bake for 40 minutes, flipping halfway through.
6. Assemble burger and enjoy!
Want more? Check out this Pecan Crusted Burger with Maple Dijon Slaw and my Quinoa Beet Burger! Need condiments for these babies? Try my Homemade Mayo and my Homemade Ketchup!
And don't forget to let me know what you think! Tag @bunnysbite on your Instagram and Facebook photos! You can also drop a comment here and rate the recipe! (: